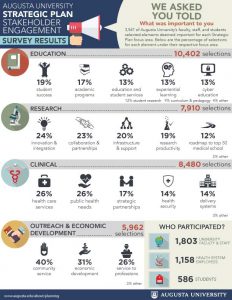 Are you one of the over 3,500 participants who completed a strategic planning survey earlier this year? If you were, then you already know that dozens of your peers are currently developing a new strategic plan for Augusta University – one that will move the needle over the next four years toward achieving our longer term priorities.
The Strategic Planning Project kicked off in fall 2016. Under the leadership of Provost Gretchen Caughman and AU Medical Center CEO Lee Ann Liska, teams of faculty, staff and students are charged with recommending new strategic priorities and goals related to four focus areas – education, research, clinical care, and outreach and economic development. Our current strategic plan, Transition Forward, has guided us through the first few years of consolidation, and now it is time to create a plan that builds on our achievements and guides our actions in the next four years.
"It's unquestionable that we have big dreams for this university and the health system – dreams that will take decades to achieve," said Caughman. "This plan is focused on what we can do now to have a significant and positive impact on our future."
Among the effort's guiding principles are that the process is participatory, open and transparent. To that end, the feedback received through the survey has helped the teams to prioritize elements within each focus area for inclusion in the plan.
Over the two weeks in January that the survey was open, all Augusta University faculty, staff and students and all AU Health System staff were invited to participate. A total of 3,547 people completed the survey, which included over a thousand write-in comments expanding on ideas for creating the best future for the university and health system. The survey results indicated that 96-98% of all respondents believed that the options identified under each of the four planning categories adequately addressed areas our strategic plan should address, and our planning teams worked diligently to incorporate your feedback into their work.
"It was clear from the survey responses that we have so many people who are passionate about this university and health system," said Liska. "Our team members want to see this organization succeed, and they are excited to be part of that success."
The teams have reviewed the survey results and read through the comments in order to inform their work in developing the draft strategic priorities and organizational goals. Next, they would like your feedback on what they have developed. During March and April, you'll be invited to attend various events to learn more about their recommended priorities and goals, which will culminate in a new survey asking for your thoughts on the draft plan.
In the meantime, you can learn more about the results of this survey by clicking the infographic above.