The top three all-time scorers in Jaguars women's basketball history returned to Augusta University to take part in the 50th anniversary of Title IX on Jan. 21.
Beth McKie Meyer, Debbie Born, EdD, and Lawanna Monday-Harden, DPM, were recognized during halftime of the Jaguars' Peach Belt Conference game against Flagler College, which Augusta University won 68-52. AU's female athletes from its other sports participated in the ceremony by lining up along the baseline.
Meyer, Born and Monday-Harden scored more than 1,800 points during their playing careers and have had their respective jerseys retired by the school.
Championed by Edith Green and Patsy Mink in the House of Representatives and Birch Bayh in the U.S. Senate, Title IX was signed by President Richard Nixon on June 23, 1972, stating, "No person in the United States shall, on the basis of sex, be excluded from participation in, be denied the benefits of, or be subjected to discrimination under any education program or activity receiving federal financial assistance."
Title IX applies to schools, local and state educational agencies, and other institutions that receive federal financial assistance from the U.S. Department of Education, according to its website. These recipients include about 17,600 local school districts, more than 5,000 postsecondary institutions, as well as charter schools, for-profit schools, libraries and museums. Also included are vocational rehabilitation agencies and education agencies of 50 states, the District of Columbia and territories of the United States.
Prior to Title IX, the NCAA did not hold championships for women's sports. Instead, they were administered by the Association for Intercollegiate Athletics for Women until the NCAA began sponsoring championships in 1982.
Blazing their trails
Meyer, who played from 1977-81 and was all-conference all four years, had her No. 14 retired after she averaged 20.4 points per game and at the time, set the mark for most points in Jaguars history with 1,836.
She is a retired teacher, having served in Aiken County for more than 34 years. She recalled being excited about being able to play collegiate basketball.
Augusta women's athletics was founded 1973, and Meyer began playing collegiately five years after Title IX was established. She said the program began to reap some of the benefits of more money being allocated into the women's' programs by additional scholarships.
"My scholarship took up the entire allotment for our team," said Meyer, who also played volleyball and tennis. "Most of my shots were at the 3-point range, which we didn't have at that time. It was full court, but we also were using the same size ball as the men. After Title IX, the 3-point line and a smaller ball were instated. We could expand our offerings of scholarships. This started to validate our program."
Born played for the Jaguars from 1987-91. Her No. 55 was retired after she took over the career points crown from Meyer, scoring 1,866 points while averaging 17.4 per game. She was also named to the All-Big South teams from 1989-91.
She came to AU with the expectation of all of the women athletes being treated equally, "and we were."
"Augusta University and the Athletic Department always made the women feel important and gave us the tools/supplies that we needed to succeed on and off the court," said Born, who earned her bachelor's, master's and education specialist degrees in physical education from AU. "The one thing I loved about AU was the fact that they took care of us equally while trying to get an education."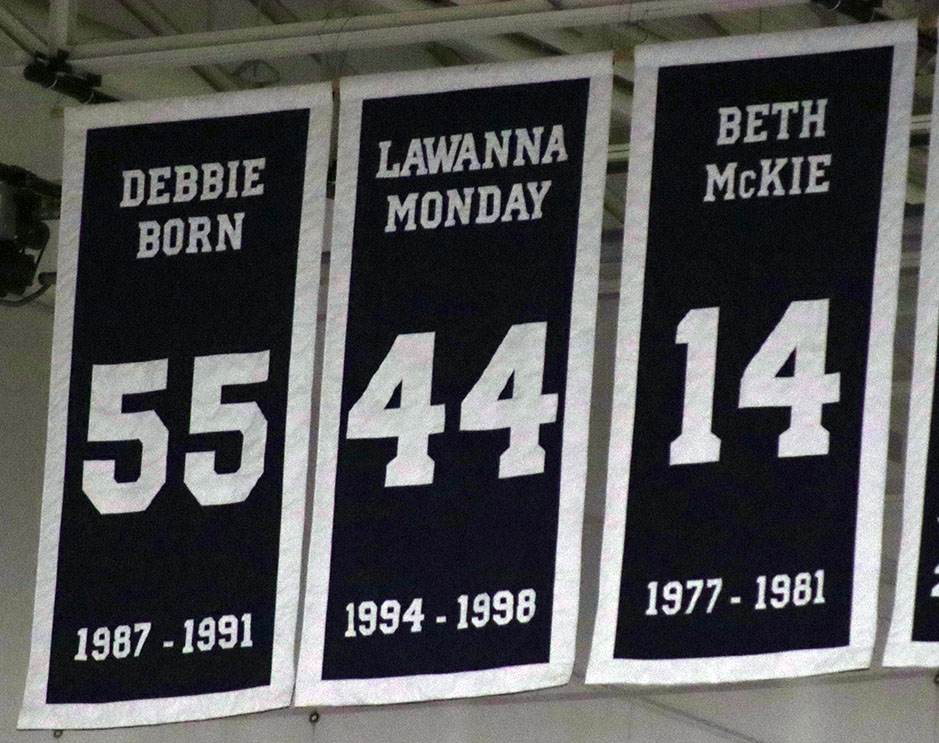 Born recently retired from teaching in Columbia County for more than 30 years and was inducted into the Greenbrier Athletic Hall of Fame in May 2022. She has fond memories of her time playing for the Jaguars.
"I remember working hard and Coach (Lowell) Barnhart always stressing how important making free throws were in winning games," she said. "He was a master at making free throws. I also remember reflecting once my college career was over that being part of a team taught me so many things besides just basketball skills. I am grateful for every opportunity that was given to me at Augusta University."
Monday-Harden played from 1994-98 and finished her career as the only player to reach 2,000 points (2,143). She was named Peach Belt Conference Freshman of the Year in 1995 and made the all-conference team three times. Her No. 44 was retired on Nov. 16, 2009.
Monday-Harden is a podiatrist in Lithonia, Georgia, and has been practicing since 2007. She said she has nothing but fond memories of her times at AU.
"It's mostly the people I remember, but you can remember the experiences from the games with them or maybe hitting a game- or buzzer-winner, but mostly it's the players that played with you know," she said. "A lot of them keep in contact; I'm godmother to some of their kids and they're godmothers to my children."
Monday-Harden said she's excited about the notoriety women's athletics are receiving, and "actually getting to see women's games."
"I think the game is at its purest form, and you see the women's game because we're not worried about jumping above the rim," she said. "For the most part, seeing the defense and seeing how the players are becoming stronger, faster and how they take in the game as a business instead of just being a sport. It's progressing the NIL money. There are so many different factors pouring into it.
"You can see it on our team," she said, referencing senior Keira Howard. "You can definitely tell her experience as compared to some of the other players. You can't beat experience. I definitely see the game progressing."
Past and present
Women's athletics has grown since the 1972 Title IX ruling and have seen their exposure grow with nationally televised games. Currently at AU, women compete in seven sports, including volleyball, cross country, basketball, tennis, softball, golf, and track and field.
"The money has opened so many more doors for women athletes. Recruiting can now be nationwide and even internationally," Meyer said. "The level of play has also ignited the increase of the nation to follow women's sports."
Born said she's excited by the amount of media women are receiving in the sporting world now.
"Even though we are not quite there, we are making strides in a once male-dominated world of sports," she said.
Monday-Harden said she knew little of what Title IX meant before she attended college but knew of its importance by the time she finished. She mentioned by the time she played, every high school had a boys and girls team. By the time she finished college, she knew that if a college picked up a men's sport, a women's team wasn't too far away from being established.
Interim women's basketball coach Celeste Stewart said she hoped her squad made them proud after their convincing victory. She said they talked in practice about having the legends come back to watch them play.
"I am grateful for the opportunity to have been a part of this game with them here," she said. "We take it one game at a time but for the ones that have left a mark and paved the way for us, they know what it takes to win, they know what it takes to leave their mark and I'm hoping they can share that with our team."
Current graduate student Kennedi Manning, a forward on the women's basketball team, admitted she didn't know what Title IX was before she got to college but felt relieved knowing she was going to be protected and have the same opportunities as male athletes. At the same time, she can't imagine what athletes like Meyer and Born went through in the beginning.
"With how the atmosphere is now with women's sports, I can't imagine how it was back then, but I feel like we've come such a long way and we're finally getting a lot more recognition. It's just still an amazing thing how Title IX has opened up so many opportunities," Manning said.
All three women were grateful to be part of the Title IX celebration, with Meyer expressing it was a humbling experience.
Born joked, "It is an honor to not be forgotten," but added that she was excited for the opportunity to be honored and "show the younger generation of female athletes that hard work and education really does pay off."
Each of them had a piece of advice for today's women athletes: Continue to work hard, respect your coach and teammates, put the team's needs before yours, go to class, let your work ethic speak for you, be a great role model for the next generation, and love and enjoy the game and your teammates.
"The sky is the limit for women athletes today," Meyer said.