Students and alumni of Augusta University will show off their Jaguar spirit during the institution's annual homecoming week, Feb. 18-23.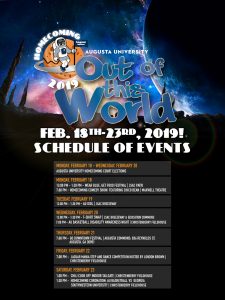 The week-long celebration includes several on-and off-campus activities such as dining out in Downtown Augusta, a comedy show, tailgating, and the talent show, "Augusta University Idol."
Festivities will culminate Saturday, Feb. 23, with a Chili Cook-off followed by the homecoming king and queen being crowned during Augusta University's basketball game against Georgia Southwestern University. The cooking contest begins at 1 p.m. and the game kicks off at 1:30 p.m. , and both events will be held at the Christenberry Fieldhouse on the university's Forest Hills Campus.
General admission into the game is $10; $7 for active military, seniors and students; and free with a valid JagCard.
View a complete list of Augusta University's 2019 Homecoming events or call 706-737-1411 for more information.