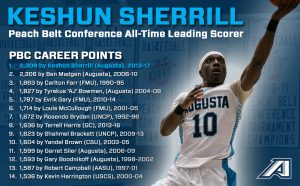 CHARLOTTE, N.C. – Augusta University men's basketball senior Keshun Sherrill became the all-time leading scorer in Peach Belt Conference history Saturday night as the fifth-seeded Jaguars rolled fourth-seeded Columbus State 102-68 in the first round of the NCAA Tournament in The Levine Center.
For the fourth time this season and the second time in the last three games, Augusta (24-7) broke the 100-point mark as they avenged a regular season and conference-tourney loss to Columbus State (20-10). Augusta faces top-seeded Queens (29-3) on their home floor Sunday, March 12 at 7:30 p.m.
Head Coach Dip Metress is now 17-7 (.708) with the Jags in the NCAA Tournament. Sherrill needed 20 points to break the PBC all-time scoring record and he finished the contest with 22 points, four rebounds, and three assists.
Junior Tamyrik Fields went 6-for-8 from the floor and totaled 14 points with five boards, while junior Kyle Doyle scored 13 with seven rebounds and sophomore Ben Ursich 11 points and eight boards. Off the bench, sophomore Deane Williams added 12 points and nine rebounds.
The Jags shot 52.1 percent (38-for-73) from the floor and went 12-for-23 (52.2 percent) from three-point range and 14-for-17 (82.4 percent) at the free-throw line.
CSU was led by Marcus Dixon's 23 points and JaCori Payne's 22. The Cougars had a 39.1 field-goal percentage (25-for-64) and were outscored 30-14 on second-chance points.
AU led large at the half with a 54-29 score thanks to shooting over 50 percent from field-goal range and holding CSU to under 35 percent shooting. The Jags outrebounded the Cougars 26-14 in the first 40 minutes and never trailed in the second half to take game one of the tournament.
The NCAA Tourney appearance is the 11th all-time selection for the Jaguars in the NCAA Tournament ('78, '01, '02, '07, '08, '09, '10, '11,'14, '15 and '17) and the eighth in the last 11 years for Metress. Augusta is making the postseason for the 13th time overall after reaching the NAIA tournament in 1970 and 1971.
Fans of Jaguar Athletics can subscribe to the email listserve by clicking here. Fans can follow Augusta University at www.AugustaJags.com and receive short updates on Facebook at Augusta University Athletics and on Twitter at @AugustaJags.