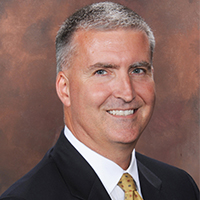 Michael Shaffer, vice president of government relations and chief advocacy officer at Augusta University, has been named executive vice president of strategic partnerships and economic development for the university and health system. Russell Keen, executive vice president for external affairs and chief of staff, will assume the role of chief advocacy officer upon transition.
In his new role, effective Sept. 15, Shaffer reports directly to Augusta University President Brooks A. Keel, PhD, and will oversee clinical outreach and economic development activities throughout Georgia, community and military relations closer to home, and AU Health's global partnerships with Beckman Coulter, Cerner and Philips.
"Michael is highly skilled at building relationships and seeking opportunities for Augusta University and the community," Keel said. "For example, he has been instrumental in our work on cybersecurity, which will play an important role in Augusta's future. Michael has worked very effectively to build relationships with business, government and military entities and is playing an active role with the new Georgia Cyber Innovation and Training Center. This new position will allow him to coordinate all of our economic development and outreach efforts and focus full-time on projects that build upon centers of excellence across our enterprise."
During his tenure with the university, Shaffer has cultivated relationships with local, state and federal leaders and increased support for the university's research and clinical cancer facilities, medical residencies, correctional health care activities and cybersecurity education.
"I am grateful for the opportunity to continue to serve Augusta University in this new capacity, and I look forward to continued economic development in our community," Shaffer said. "Augusta is a community with boundless potential."
Shaffer joined Augusta University in 2012, after serving as deputy chief of staff to Gov. Nathan Deal. Prior to that, he worked for the late U.S. Rep. Charlie Norwood and U.S. Rep. Paul Broun.