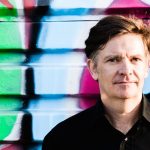 Living on the wrong side of the Iron Curtain was for Rob Spillman what some might call a "defining experience."
There, the co-founder of Tin House magazine and author of the recently published All Tomorrow's Parties, spent his formative years in the shadow of the Berlin Wall – a constant reminder that nothing in life, not even childhood, is ever truly free.
After years spent moving to please divorced parents, Spillman found his way into the New York Literary scene, but soon after abandoned the new world glamor of the Big Apple with his new bridge to return home. Or, rather, someplace like it.
Published by Grove Atlantic, All Tomorrow's Parties is a hard and heartfelt look back at the life of a man and artist divided and of the split city that birthed, raised and finally called him home again.
Sponsored by the Augusta University Department of English and Foreign Languages, Rob Spillman will perform a reading followed by a book signing on Tuesday, Aug. 30 from 4-5:30 p.m. in the JSAC Butler Meeting Room. This event is free and open to the public. Books will be available for purchase from The Book Tavern.
A former monthly book columnist for Details magazine, Spillman's work has appeared in multiple publications including GQ, The New York Times book Review, Sports Illustrated and Rolling Stone. He is currently a lecturer for Columbia University's Master of Fine Arts graduate writing program.
For more information, contact Anna Harris at 706-729-2508 or aharris31@augusta.edu.