This year, the Augusta University School of Computer and Cyber Sciences and the Military Academy of Saint-Cyr Coëtquidan in France formed a partnership to provide cybersecurity training and education to military cadets.
Thanks to this arrangement, two French cadets, second lieutenants Louis Marty and Robin Berthelon, are learning more about computing and cybersecurity this semester in the Georgia Cyber Center's ecosystem as they complete their master's project in cyber defense under the supervision of Dr. Michael Nowatkowski.
Marty and Berthelon say they had a choice of where to complete their internship. They could have gone to Italy, Norway, or either Seattle or Augusta in the United States. Their decision ultimately came down to the different way of life in the United States and the unique ecosystem at the Georgia Cyber Center.
"I was attracted here to be far away from France and discover a new country," said Marty. "The Cyber Center is very different from what the other students are in; they're in more military academies and industries. This special center marries army, government, academics, etc. It was interesting to discover this particular center."
When asked what they've enjoyed most during their time in the States, they laughed: They've enjoyed it all.
"It's been a great opportunity here. Both of us think that our work is part of a new project and we are making something real here and interesting and concrete," said Berthelon. "We believe we are a part of the movement of the Georgia Cyber Center, even though we've only been here for a few months."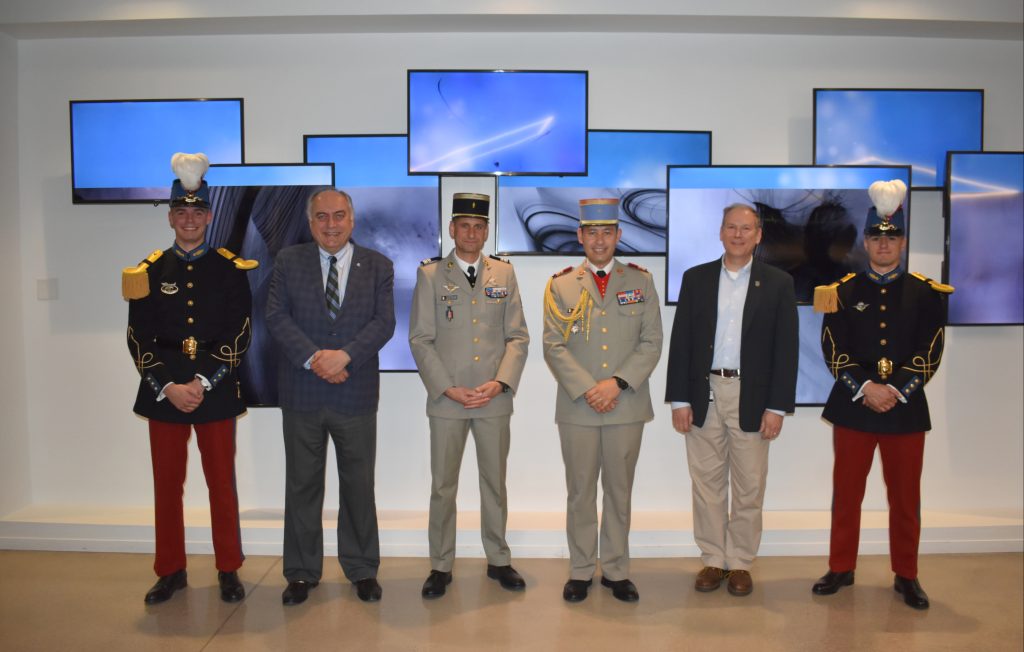 Nowatkowski, head of the cyber program of study at Augusta University, has served as the cadets' internship supervisor during their time in the States. Nowatkowski said working with Marty and Berthelon has been a joy.
"I really enjoyed working with Louis and Robin," said Nowatkowski. "They were very well prepared to begin their project on industrial control system security and displayed a high level of motivation to expand their knowledge on this subject."
"It's been enjoyable being part of a bigger idea. Dr. Nowatkowski has showed us that this work will be shared with his students, and he will do some classes on this," said Marty.
Dr. Patrice Parraud, associate professor at the Military Academy of Saint Cyr Coëtquidan and head of the Cyber Academic Option, is delighted with the efforts and investments made to achieve such a collaboration around cyber activities and information security.
"This collaboration is an amazing opportunity in both academic and research points of view," said Parraud.
Lt. Col. Nicolas Pierson, the French liaison officer at the U.S. Army Cyber Center of Excellence, is looking forward to the future of this partnership for other French cadets to experience the United States, and specifically the Georgia Cyber Center.
"The first time I visited the Georgia Cyber ​​Center, I immediately thought, 'This is the perfect place to do an internship.' We worked a lot with the French military academy of Saint Cyr and the Georgia Cyber ​​Center to get there. It is a real success for the cadets as well as for the partnership between France and the United States," said Pierson. "I have only one hope now: that this partnership can continue and that France can welcome American students."
"We are really glad to be able to host two French cadets here, and I was impressed with their preparation and accomplishments on their master's project," said Dr. Alex Schwarzmann, dean of the School of Computer and Cyber Sciences. "We will continue and build on this international partnership and create new opportunities for bilateral student exchange."