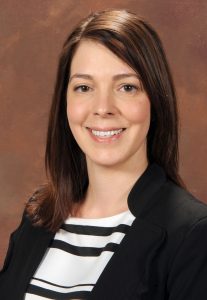 Dr. Pascha Schafer has been named associate chief medical officer and chief quality officer for AU Health.
In this new role, Schafer will be responsible for strategic leadership in the development and implementation of patient quality and safety initiatives for the health system, including coordinating administrative activities and performance improvement programs for AU Medical Center and AU Medical Associates.
Schafer earned a bachelor of science degree from Augusta (State) University in 2001 and a medical degree from the Medical College of Georgia in 2005. She completed an internal medicine residency here and served as chief resident in 2008. She then completed a three-year cardiology fellowship at Wake Forest University Baptist Medical Center, returning to the MCG faculty in 2012.
She is currently an associate professor in the Department of Medicine, Division of Cardiology, and in the Center for Bioethics and Health Policy. Schafer served as associate director of the Cardiology Fellowship Program from 2012-2014 and associate program director of the Internal Medicine Residency Program from 2015-2017. She is well-versed in Graduate Medical Education and was presented an MCG Faculty Senate Exemplary Teaching Award in 2015.
Schafer has served as medical director of the Cardiac ICU since 2014 and the Cardiac Intermediate Care Unit since 2016, which under her leadership on policy and workflow development, became the first adult intermediate care unit at AU Medical Center. She has extensive professional and leadership experience in outcomes management and quality initiatives, including value-based medicine, clinical informatics administration, business operations, alarm management, and many other patient quality and safety areas. She also serves on the Medical Staff Clinical Performance and Utilization Work Group and the Beckman Coulter-AU Health Innovation and Alliance Work Group.
Schafer has presented and been published on various cardiac care issues, and she is an active member and contributor to several national and state committees and scientific and medical societies.