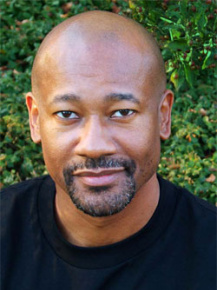 Without a doubt, this semester is already a winner for lovers of literature.
But in addition to our hosting of the highly anticipated Georgia Literary Festival, the beginning of November holds even more opportunity for the aspiring writer or avid reader at GRU.
On Nov. 2, the Sand Hills Writers Series proudly welcomes Frank X Walker and Antonya Nelson to the JSAC Coffeehouse, Room 235, for an afternoon of intellectual discussion and literary introspection.
And no two talents could be more different or intriguing.
Walker, the current and first African-American poet laureate of Kentucky, is a founding member of the "Affrilachian Poets" – a consortium of poets dedicated to bringing African-American voices to the traditionally Caucasian cultural and historical identity of the Appalachian range.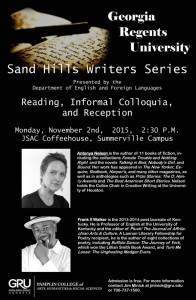 The second of 11 children, Walker grew up in Danville, Kentucky. An avid reader, he currently teaches English at the University of Kentucky and, to date, has published four poetry collections, titled "When Winter Come: The Ascension of York" (University Press of Kentucky, 2008), "Black Box" (Old Cove Press: 2005), "Buffalo Dance: The Journey of York" (University Press of Kentucky, 2003) and "Affrilachia" (Old Cove Press, 2000).
Walker is also the recipient of the 2006 Thomas D. Clark Literary Award for Excellence, Actors Theatre's Keeper of the Chronicle Award and a 2005 recipient of a $75,000 Lannan Literary Fellowship in Poetry.
While Walker is an undisputed master of the poetic voice, it must be said that his fellow guest, Antonya Nelson, is a master of prose.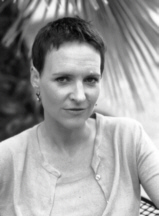 A creative writing professor at the University of Houston, Nelson is the award-winning author of three novels and four short story collections. Her stories have appeared in several prominent publications, including The New Yorker and Harper's.
Her first short story collection, "The Expendables," won the Flannery O'Connor Award for Short Fiction. Her first novel, "Talking in Bed," was awarded the Chicago Tribune's Heartland Award for fiction. In addition to having received both a National Endowment for the Arts grant and a Guggenheim Fellowship, Nelson also won a Pushcart Prize, and five of her books have been New York Times Notable Books.
The Washington Post says "Nelson's portrayal of women makes her a formidable writer," and describes her as both "a woman of piercing intelligence" and a "first-rate stylist."
Participants of the Sand Hills Writers Series will have the opportunity to meet both literary titans for free.
For more information about the Sand Hills Writers series, please contact James Minick at jminick@gru.edu.
For more information about Frank X Walker, visit his website.
For more information about Antonya Nelson, visit her author profile.