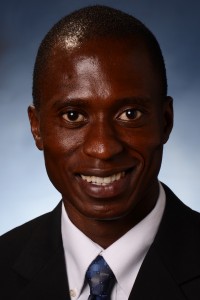 Pardon Ndhlovu, Augusta University alumnus and assistant cross country coach, ran the Houston Marathon on Sunday in hopes of securing his spot on the Zimbabwe Olympic marathon team.
The International Association of Athletics Federations (IAAF) set a men's qualifying time of 2:19 for this summer's Olympics in Rio. Zimbabwe will pick its men's marathon team on July 22. There are three spots available, and Ndhlovu tentatively holds one of those spots.
Last year, Ndhlovu ran the Houston Marathon in 2:16:51, earning a spot on the team. He had hopes of securing this spot during Sunday's race. Unfortunately, weather conditions affected Ndhlovu's performance, and he finished the marathon with a time of 2:17:32 and placed 10th out of more than 13,000 runners. However, Ndhlovu is still hanging onto his spot on Team Zimbabwe, and the Olympic dream lives on.
"I will continue training and will decide whether to race another marathon the first week of April after seeing what other Zimbabwean athletes run in a marathon in March," he said.
For more information and to view the results, visit the Houston Marathon site or read more about Pardon on Jagwire.