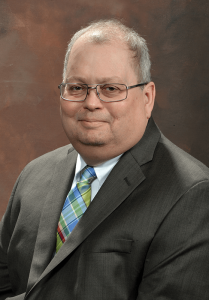 Dr. Rickey Hicks, dean of the College of Science and Mathematics, passed away on Saturday, Jan. 7.
Hicks, who was the first dean of the College of Science and Mathematics, had served in that position for three years.
"Rickey Hicks exemplified the kind of leadership we strive to develop in our organization," said Dr. Gretchen Caughman, executive vice president for academic affairs and provost. "He loved Augusta University and embraced fully our institutional vision and values. His enthusiasm and commitment will be missed."
Prior to his time in Augusta, Hicks was chair of the Department of Chemistry at East Carolina University, director of medicinal chemistry at Walter Reed Army Institute of Research and a professor at Mississippi State University.
An avid researcher specializing in antimicrobial peptides in drug design for use in fighting drug-resistant bacteria, Hicks held five patents and had 55 publications.
The family will receive friends from 5-7 p.m. on Wednesday, Jan. 11, at Platt's Funeral Home, 337 North Belair Road, Evans. The funeral will be at the same location on Thursday, Jan. 12, at 3 p.m.Flowers are welcome, or memorials can be made to the Augusta University Foundation College of Science and Mathematics or the Humane Society.