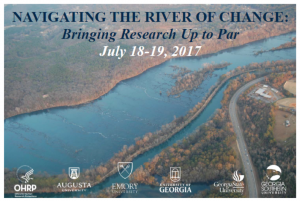 Beginning the morning of July 18, Augusta University's Institutional Review Board will host a Research Community Forum at the Augusta Marriott hotel.
The conference, co-sponsored by OHRP-DHHS, the University of Georgia, Georgia Southern University, Georgia State University and Emory University, will offer several informational sessions and will give attendees the opportunity to earn Continuing Education Units (CEUs).
The two-day event includes a one-day workshop and a one-day conference. The workshop is designed to help participants appreciate how to interpret and apply the U.S. federal regulations and policies on human subject research protections. The conference will feature programing focusing on Genetics, Central IRB Considerations and general topics in Research ethics.
The keynote presentation will be delivered by Dr. Joni Rutter, director for the Division of Basic Neuroscience and Behavioral Research at the National Institute on Drug Abuse.
Plenary presentations will be delivered by Dr. Pearl O'Rourke and Dr. Ivor Pritchard.
For more information, including a full list of events, please visit the conference web page.