A renovation and expansion project at the Georgia Radiation Therapy Center at 821 St. Sebastian Way will temporarily detour a portion of Cushing Lane for several months. Access to the center's parking areas and the back of the facility will be maintained.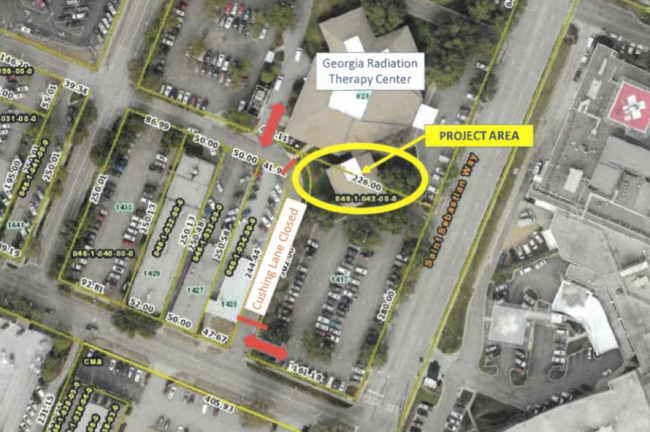 The GRTC Renovation project includes about 8,000 square feet of new construction and renovation. The project will provide new ambulatory care spaces and a new linear accelerator to support clinical functions. The spaces are designed to meet current codes and facility guidelines for ambulatory care functions. Construction areas will be secured inside site fencing and site signage will be provided.
More than a thousand patients from across Georgia and South Carolina receive specialized treatment each year at the Radiation Therapy Center. This regional hub for radiation therapy serves patients from Augusta University Health, the Georgia Cancer Center, the Department of Veterans Affairs Medical Centers and University Health Care System.
The center currently houses four linear accelerators, a computer tomography (CT) scanner and a positron emission computed tomography machine (PET/CT). The PET/CT is used to find and diagnose cancers. The CT machine is used to plan and execute personalized treatment strategies for cancer patients, while the linear accelerators are the machines that actually administer radiation treatments.
The 12-month project will begin Monday, May 10, and will not interrupt daily patient care at the center.
For more information on this project, please contact Donnell Davis or Tom Dunaway in Planning, Design and Construction for Augusta University Facilities, or visit the Pardon Our Progress page in Jagwire.