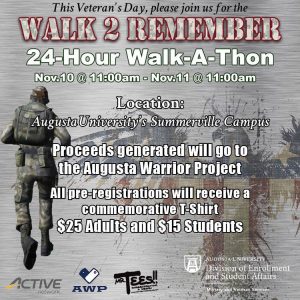 The second annual Walk 2 Remember, a 24-hour walk-a-thon to recognize the sacrifice and dedication of our veterans, will kick off at 11 a.m. on Nov. 10 behind the Maxwell Theatre on the Summerville Campus and end 24 hours later with an awareness rally.
Proceeds from the event, which is sponsored by the Augusta University Ranger Club and Military and Veterans Services, will benefit the Augusta Warrior Project.
Online registration ($25 for adults, $15 for students) is ongoing. Packet pick-up and registration will be located in the lobby of Galloway Hall from 10 a.m. – 1 p.m. on Nov. 9. Check-in on Nov. 10 will be in front of the Maxwell Theatre.
For an interactive map of the Summerville Campus, click here.
Everyone who pre-registers will receive a commemorative T-shirt, and refreshments will be provided for the ceremony.
Questions, please call 706-737-1643 or 480-399-7804. Email AQUINATA@augusta.edu.