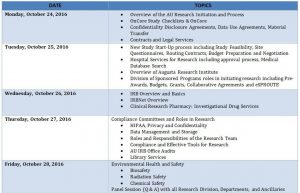 Registration is now open for Research Academy 101.
Event Dates: October 24 – 28, 2016
Event Times: 8:30 a.m. – 12:00 p.m. (Daily)
Event Location: Mills Community Room in the Ronald McDonald House on the Health Sciences Campus
How to Register: Please go to https://train.augusta.edu/d2l/home to register for Research Academy 101_Fall 2016.
Note: The system users have to register for each individual session/day of which they plan to attend.
For additional information please contact Dora Walden – svpresearch@augusta.edu.