Human Research Academy 101 is an exciting and comprehensive basic training program sponsored by GRU's Clinical and Translational Sciences.
This comprehensive basic training will benefit new and experienced research investigators, coordinators, and research team members who engage in human subject research.
Upon completion of the training program, research team members will be introduced to necessary components to be able to effectively organize and manage a research study at GRU, GR Medical Center and the Augusta VAMC.
Human Research Academy will take place daily from Oct. 26 to Oct. 30 in the Ronald McDonald House Mills Community Room from 8 a.m. to noon.
Visit Workforce Learn Online to register for Human Research Academy 101_Fall 2015.
Note: System users must register for each individual session/day they plan to attend. See the chart below for a list of daily topics.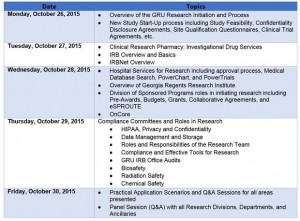 Contact Dora Walden at svpresearch@gru.edu for additional information.