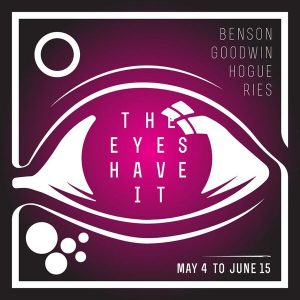 Augusta University's Pamplin College of Arts, Humanities, and Social Sciences, in conjunction with Westobou, is excited to announce the Senior Exhibition, The Eyes Have It.
The exhibition will run from May 4 through June 14 in the Westobou Gallery downtown. There will be an opening reception May 4 from 5-8 p.m.
Based around the artwork of students Kenneth James Benson, Macy Goodwin, Rebecca Hogue and Alex Ries, The Eyes Have It is an exhibition that centers on the four artists' ability to see through culture to recognize and challenge concepts of our individual perceptions.
Senior Exhibition is the final venture that fine art students take in order to earn their degree from Augusta University. The seniors are expected to hold an exhibition with a cohesive series displaying their ability as artists to enter and challenge the contemporary fine art field.
After submitting proposals to galleries in the area, the Westobou Gallery showed interest in curating Benson, Goodwin, Hogue and Ries's works as a group exhibit. Westobou found a collective focus on the intrinsic nature of perception and wanted to showcase how they communicated that perception across varied mediums.
The Eyes Have It seeks to showcase our visually driven world while exploring the clarity of both reality and illusion. In a world with social media, fake news and data breaches, this exhibition brings the four artists' work together and offers distinctive views on the duality of our visual world through mixed media, costumery and augmented reality.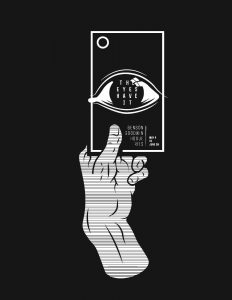 Kenneth James Benson is a BA in art candidate, whose work focuses on illustration and storytelling through watercolor, printmaking and installations. His goal is to tell stories without words through his work, crediting children's books as his inspiration. For the exhibition, Benson will be utilizing an app in order to make his art come to life by creating an augmented reality and infusing his art with technology.
Similar to Benson, Rebecca Hogue, a BFA candidate in graphic design, brings technology into her work for this exhibition. However, Hogue's intention is to bring the idea of blanket surveillance to life through fine art. By using layers of stacked transparent mylar covered with augmented camera lense-like eyes, Hogue is able to show the overwhelming nature of surveillance on a figure in an abstract world. She aims to create a personal experience from a world full of cameras, drones and surveilling technology, and spark discussion over the balance between privacy and the benefits of surveillance, she said.
The next two artists, Macy Goodwin and Alexandra Ries, are BFA candidates in sculpture and ceramics.
Goodwin works to integrate a diverse array of concepts into her pieces by using mixed media, ceramics, print and found objects. Describing her work as "a fantastic and primal lens creating a folklore that merges with reality," Goodwin aims to bring the act of creation into public spaces through her living art. She will be performing in her handmade pieces during the opening reception.
Alex Ries' work stems from her own embracement and rejection of the color pink as "a recurring aesthetic theme and a representation of femininity," she said. Ries aims to be a reflection of a feminine nature through her work, progressing from pieces that are direct representations of the female body to more abstract and simplified versions of that form. Working with sewn sculptures formed in hot magenta plastics, Ries' describes her work as "loud, vibrant and unapologetically gendered."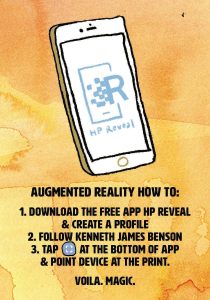 "I think for each of us, this show was a long time coming," said Hogue. "Everything is current work we've been creating since January for this show. But all of our work draws on past experimentation and process, which has brought the work to the point it is today."
To get the most out of the interactive exhibition, download the app "Hp Reveal," and follow Kenneth James Benson.
For progress photos, follow the artists on Instagram: Kenneth James Benson (@kennethjamesbenson), Macy Goodwin (@thecosmic_palace), Rebecca Hogue (@rhogue11) and Alexandra Ries (@alexandraeries).
For more information about all Westobou Gallery exhibitions and events, visit their website.