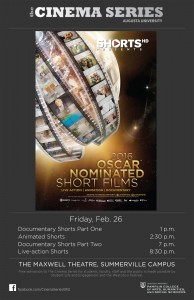 So you're watching the Academy Awards this Sunday when the nominations for short films come on. Chances are you either run to the kitchen or run to the bathroom, because if there's one sure thing on this night of surprises, it's the fact that you've never seen any of these films.
Until now.
This Friday, just two days before the Academy Awards, the Augusta University Cinema Series is presenting all the Oscar-nominated short films at the Maxwell Theatre.
Starting with Documentary Shorts Part One at 1 p.m. and ending with Live-action shorts at 8:30 p.m., these programs cover everything from hard-hitting documentaries to playful animation, including an animated film that is decidedly not for children.
"It's going to be a long day," said Matthew Buzzell, assistant professor in the Department of Communications and co-chair of the Cinema Series. "There is going to be something that will speak to everyone."
Seeing all the Oscar-nominated short films at one time is an opportunity that Augusta has never experienced before. Buzzell, an award-winning filmmaker himself, said he's excited to be able to bring it to the community, especially in a year where much of the buzz surrounding the awards has focused on diversity issues within the Academy.
There are no such issues here, he said.
"I certainly don't want to sound like any kind of apologist, because diversity is an issue with the Academy, but what people are looking at primarily are the best actor and best actress categories," he says. "But if you look at the other areas of nominations, you will find a good bit of diversity, and this particular program showcases that."
The films are from as far away as Palestine, Germany, Kosovo, the United Kingdom, Chile, Russia, Liberia, Viet Nam and Pakistan.
And the quality and creativity of these films is exceptional, Buzzell said. Because short films are a great way for talent to grow, they can serve as calling cards as these filmmakers move forward into feature films.
Like all Cinema Series events, the entire day's worth of screenings is free thanks to the generosity of Student Life and Engagement and the Westobou Festival.
"This is an opportunity for students, faculty, staff and members of the community to really be well informed come Sunday."
For more information, visit the Cinema Series Facebook page.