Colette Randall is working to make the Augusta University campus more welcoming and accessible for everyone, regardless of their abilities.
She joined the university Facilities department six months ago as a project manager in Planning, Design and Construction. But given her background in mechanical engineering and her work experience in the highly regulated nuclear industry, she was a logical choice for the university's new ADA facilities specialist.
"I see this an as awesome new opportunity," Randall said. "It is incredibly important for equality purposes at Augusta University. We don't want anyone to miss out on the experiences we have to offer because of a physical challenge. We also don't want to miss out on an individual's contribution because of a physical challenge. We want to 'Be Boundless.'"
Randall, who assumed the ADA role on June 1, will focus primarily on promoting and maintaining a physical environment that supports the Americans with Disabilities Act. She has plans to evaluate the university — building by building — in an effort to assess compliance.
"A medical building will have different ADA standards than an office building," Randall said. Each evaluation will depend on the building's purpose and who is served by the facility.
"An inspection starts once you arrive at a building. You have to think about your clients when they park and how they will get to the entrance, not just accommodations inside the facility," Randall said. "Even if a person can access parking, a wheelchair ramp may be misplaced, or the slope could be too steep. These are things I will be looking for."
Randall will identify barriers to access for students, faculty and staff and make recommendations for removing these barriers.
"A barrier could be identified as simply making the false assumption that all wheelchairs are motorized," Randall said. "This is one of the main reasons why the slope of a ramp must be carefully considered."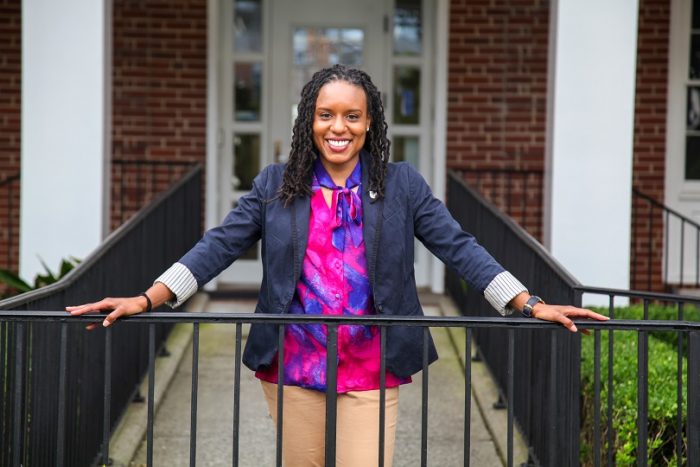 Randall will also review design documents for new construction and renovation projects to ensure ADA compliance with current codes, such as the Annex I renovations.
Randall will be a sounding board for faculty, staff and students who want to share specific needs and opportunities related to the design and function of buildings, parking lots and other physical spaces across the campuses.
For example, a building manager approached Randall with concerns about the sidewalk in front of the Stoney Building during recent renovations of the historic structure.
"The walkway was originally constructed of pebbles, so it wasn't smooth," Randall said. "In addition, it had several cracks in the surface, which made it uneven. Both of these issues made it unsafe for our staff and our patients. Repairing the sidewalk was not part of the initial project scope, but we completely removed and replaced it. It was the right thing to do."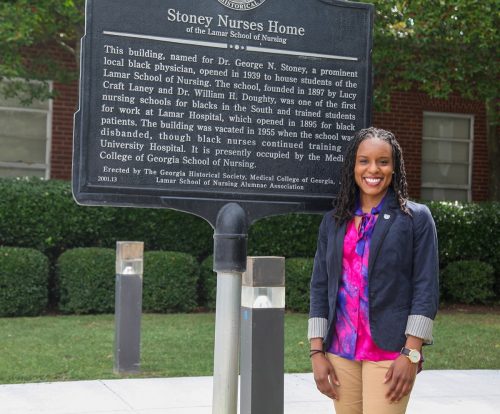 Randall has also completed project enhancements at the Goss Lane parking deck adjacent to the Student Center.
"For pedestrian safety, we now have a designated pedestrian entrance, which was really needed," said Randall. "In addition, we installed a chain link fence at the vehicle entrance to keep pedestrians from darting out in front of moving vehicles."
A native of South Carolina, Randall earned a Bachelor of Science in mechanical engineering in 2008 from North Carolina Agricultural and Technical State University in Greensboro. She moved to Augusta in 2009 to work at Plant Vogtle in Burke County as a nuclear steam supply system engineer.
In December 2019, Randall earned a Master of Business Administration from Augusta University's Hull College of Business and joined the Facilities team.
"Learning and applying new codes and standards is something I am very familiar with," said Randall, who spent six years at the nuclear power plant and four years at a local restaurant. From the local health department and the Food and Drug Administration to the Nuclear Regulatory Commission, Randall has worked with several agencies on code enforcement and compliance issues.
"I am excited to be able to use my unique history, background and skills to make a difference at Augusta University."
Contact Randall via email or call 706-721-8436.