New Augusta University students spent most of Aug. 10 moving into their residence halls, then over the next few days, participated in R.O.A.R. (Residence Orientation And Recreation) Camp, which is an extended orientation experience for all first-year students living on campus.
All first-year residents are required to participate, which is aimed at assisting students in making a successful academic and social transition to Augusta University. It is usually scheduled several days before the first day of classes to begin preparing them for academic and social success.
Among the camp traditions include an off-campus trip to Camp Gravatt, located near Aiken, South Carolina, the JAG Carnival, and a community service event. This year, AU partnered with Project Linus, a nonprofit organization whose volunteers, affectionately referred to as blanketeers, customize and provide homemade blankets to children in need.
Michema Lafontant, coordinator for Academic Initiatives and Student Leadership, has been at AU for a few months and was excited at the chance to take on a job that focuses on extended orientation and residence life. She was especially interested in getting involved with volunteer work.
"Personally, I love volunteering. It's a way for our university community to give back to our Augusta community," Lafontant said. "Not only are you helping other people, but you're also learning how doing service makes you a better person.
"This year, we wanted a big project that we could all be together in one location, and (working with Project Linus) was a perfect opportunity to have a volunteer opportunity for our students," Lafontant said. "I'm happy that the students were enjoying what they were doing and the blankets turned out amazing. I'm looking forward to getting some photos back to show our first-year students that their hard work helped someone in need."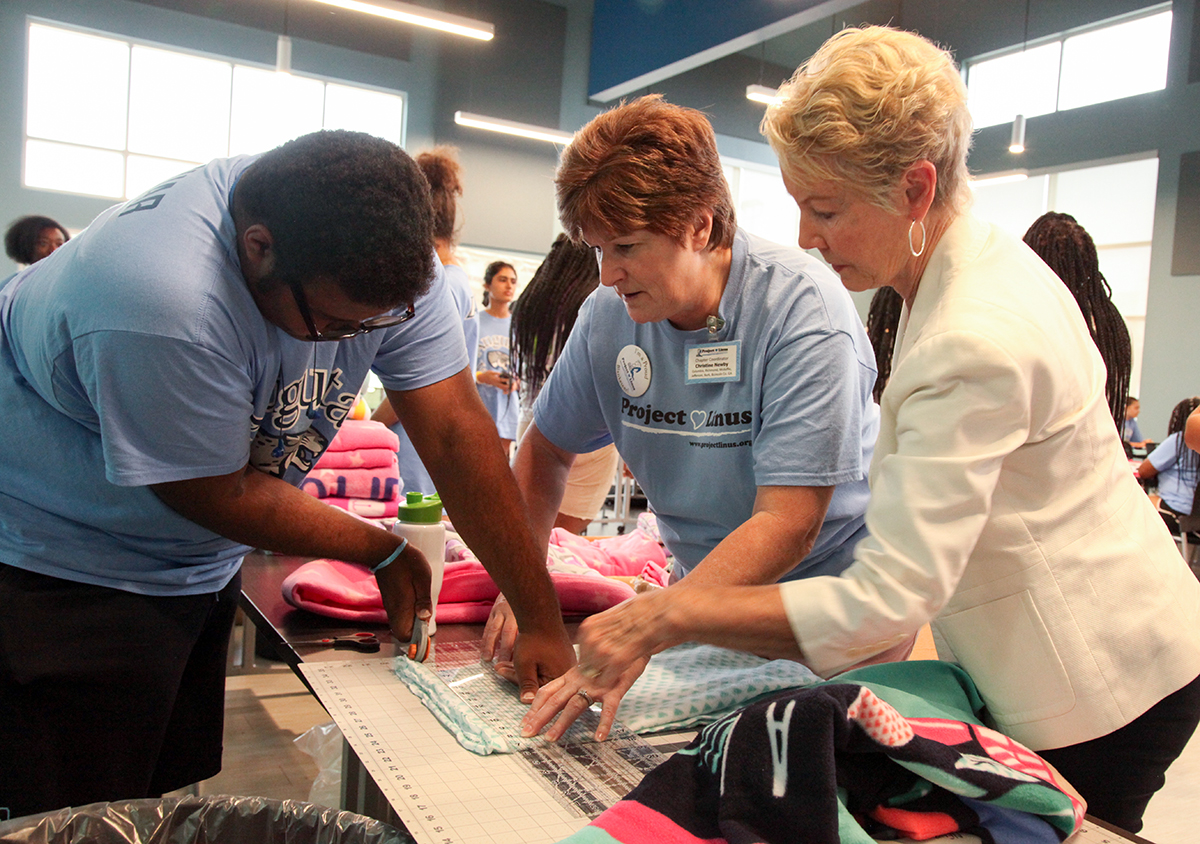 Dr. Heather Schneller, director of Housing and Residence Life since 2015, said they have always had a community service project tied to the extended orientation program and sees it as a great way to bond the students to their new community. She received rave reviews after last year's volunteer experience.
"This is a great opportunity to give back to the community they are joining," she said. "They are giving back almost 1,000 hours to the community even before classes start. I think that speaks well to the nature of our incoming class, that they are dedicated to this kind of community service.
"Knowing the impact (Project Linus) is going to have in our community, I can see this being a sustaining project for us going forward."
Christine Newby became Project Linus' chapter coordinator for Burke, Columbia, Jefferson, Lincoln, McDuffie and Richmond counties in November 2018. She entered the year with a goal to make 1,000 blankets and entered last week with 430. AU students contributed 232 blankets.
"I was tickled by the outcome," Newby said. "The blankets were of quality; you could tell it was in their hearts to do a great job for the children these blankets were going to. You can make a blanket or you can make a blanket with love. They made the blankets with love, and it was just amazing to watch. It's an honor to take these blankets and give them out into the community."
Newby said getting freshmen to help out is a "stellar" idea and had already bragged to other people about what a lifetime impact that will have on all of them.
"There were a few of the students that came up to me afterward and asked me some questions about Project Linus, saying, 'We want to continue to volunteer for you; how do we do that?'" Newby said. "And to help the community and learn to give back, it's just stellar."
Learn more about Project Linus.