Over the Thanksgiving holiday, a little piece of Augusta University found its way to the Augusta Museum of History, though, maybe not for reasons you'd expect.
For nearly two weeks, Angela Rotier, a retired veteran and owner of Blue Ruby Cakes, designed, baked, decorated and fawned over a miniature gingerbread version of Bellevue Hall—her latest entry in the museum's annual Holiday Gingerbread Village Showcase.  Working roughly 12 hours a day, Rotier produced a strikingly realistic version of the home, even going so far as to design its interior.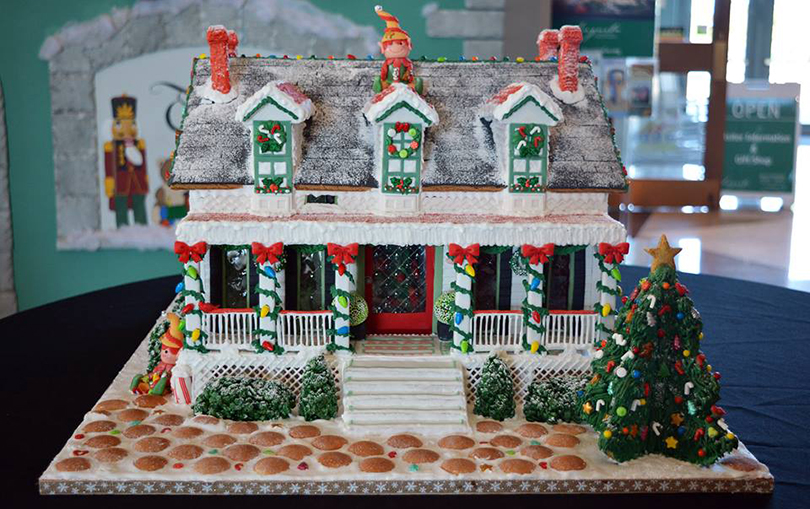 She isn't an alumna, or even an employee of Augusta University. So why then did she put so much time and effort into making the perfect gingerbread Bellevue?
"Bellevue Hall stuck with me last year after I read the historic marker in front of the house," Rotier said. "Especially what it said about Freeman Walker."
When designing realistic gingerbread structures, scouting plays a significant role in getting everything just right. There's a wide gulf between seeing a picture of a house, and putting your hands on one. Part of that is understanding the building's history. Or, in this case, the history of the people who lived there.
"The marker made [Walker] look like an incredible statesman," she said. "He was also a distinguished attorney. I was always involved with legal in the Army, so it grabbed me that he was an attorney and a senator."
A retired Chief Warrant Officer 3, Rotier spent the first 10 years of her Army career as an enlisted soldier, working as a paralegal for the JAGC (Judge Advocate General's Corps). Having worked for a decade as a paralegal, she gained the specific skills and experience needed to apply for and be selected as an Army warrant officer.
"As a warrant officer, I became a legal administrator," she said. "It was really rewarding to get to be the person that somebody else comes to and you can help them."
Walker was no stranger to that kind of sentiment. In 1826, he sold his home, then called "Belle Vue," and the surrounding estate to the Federal government to be used for the construction of a new armory. The sale followed a wave of fever epidemics which left the Augusta garrison, then stationed on the Savannah river down the hill, all-but decimated.
But how does one fit that much history into a few pounds of gingerbread?
With purpose, direction and motivation.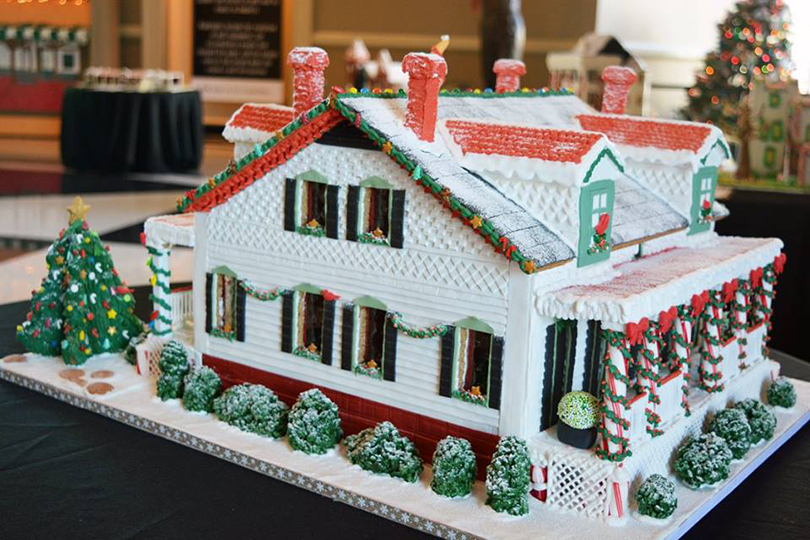 "In the military they teach us again and again purpose, direction and motivation (PDM)," Rotier said. "So, if somebody, say, wants a military retirement cake, you translate that into PDM."
The purpose, Rotier explained, would be to create a good product. The direction, having the cake ready by the client's retirement party. Last, motivation would be the desire to create a centerpiece for the retirement party or ceremony that not only wows the client but also keeps people thinking about your business.
In theory, it sounds simple, but in practice, it's an entirely different beast.
"We start with pictures of the house," Rotier said. "My husband even got an overhead Google Earth image of Bellevue, and we talked to friends that are super smart about certain things and we created a template that's as close as we can get to the actual size in perspective."
From there, Rotier said, the next step is measuring how large—or how small—a given project has to be to meet the showcase's requirements. Then, it's on to printing the templates on cardstock and assembling a paper model of the house.
"That process takes a few days," Rotier said, joking that it also took "some marital discord."
Assembling the gingerbread is tricky. It's natural inclination, especially when introduced to moisture, is to sag and sink. On the flipside, fondant and royal icing—two staples of cake decorating—begin to dry out when exposed to air, losing much needed flexibility. It's a race against the clock. And, unfortunately for the decorator bending and stooping to fill in the details, that race happens to be a marathon.
After 165 hours, somehow, Rotier managed to bring it all together. The final tally of supplies: 17 pounds of gingerbread, 10 pounds of powdered sugar, seven pounds of flour and six pounds of fondant. That's without adding in the corn syrup, shortening and candies needed to flesh out the detail and hold everything together.
The results speak for themselves: Her gingerbread Bellevue won the Holiday Gingerbread Village People's Choice award at the museum showcase.
As for next year, she said she's still undecided about what structure to remake in gingerbread. That she'll make another gingerbread house is a foregone conclusion, though.
"Each year I think I've sworn off doing another, and then the next year comes around and [Jennifer Chrzanowski, Operations Manager at the Augusta Museum of History] calls and says, 'We really need you,'" Rotier said. "You immediately forget about the pain and the aggravation and how much time it took, and you see that beautiful gingerbread house and you think, 'How'd I pull that off?'"
The answer? Through hard work, and, of course, a healthy dose of PDM.