Events at Augusta University this October will mourn those lost to domestic violence, celebrate those who have survived, and unite those working to end the abuse in honor of Domestic Violence Awareness Month.
"This is an opportunity to hear the testimony from brave survivors, get answers to your questions, and connect with resources on campus and in our community," said Dr. Allison Foley, Director of the Augusta University Center for Public Service. "We're proud to partner with SafeHomes of Augusta, which works tirelessly to support victims and survivors, to offer a varied and interesting set of programs this month, including everything from an art benefit to a candlelight walk."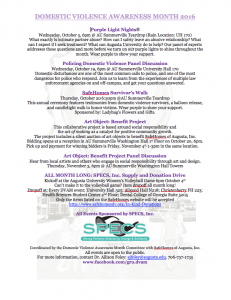 Events for Domestic Violence Awareness Month 2016 include:
SPECS, Inc. Supply Drive: 6 p.m. Oct. 4, Christenberry Fieldhouse. Kick-off a donation drive for SafeHomes of Augusta at the Augusta University Women's Volleyball game. Items can also be dropped off at all Domestic Violence Awareness Month events. See safehomesdv.org for a list of items that will be accepted.
Purple Light Nights: 6 p.m. Oct. 5, Summerville campus Teardrop by the amphitheater. A panel of experts addresses common questions such as: What is intimate partner abuse? How can I safely leave an abusive relationship? What can Augusta University do to help? Purple lights will be illuminated on campus. Participants are also invited to wear purple, the color of domestic violence awareness.
Policing Domestic Violence Panel Discussion: 6 p.m. Oct. 19, Summerville campus, University Hall 170. Domestic disturbances are one of the most common calls to police and one of the most dangerous for police who respond. Learn from the experiences of law enforcement agencies on and off-campus to get your questions answered.
SafeHomes Survivors' Walk: 6:30 p.m. Oct. 20, Summerville campus Teardrop by the amphitheater.
Art Object: Benefit Project: 6 p.m. Oct. 20, Washington Hall. Bidding opens at a silent auction of art objects to benefit SafeHomes of Augusta. Pickup and payment for winning bidders is 1 to 3 p.m. Nov. 4. A panel discussion with artists who engage in social responsibility through their work will be 6 p.m. Nov. 3 in Washington Hall Towers.
"The community works year-round to support victims and advocate for those who have been impacted by intimate partner violence," Foley said. "But October provides a special opportunity to bring special attention to the issue and raise awareness as we light our campus purple. The entire community is invited to join us."
All events are open to the public. Learn more at facebook.com/gru.dvam.