Now through June 11 area Publix Super Markets will be inviting customers to "Put Your Money Where the Miracles Are" by making $1, $3, or $5 donations to Children's Hospital of Georgia, the local Children's Miracle Network Hospital.
Area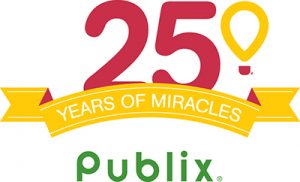 Publix stores raised more than $17,000 for Children's Hospital of Georgia last year, according to Catherine Stewart, CHOG development officer. "We are fortunate to have such longtime supporters like Publix," Stewart said. "We couldn't continue to provide such high quality pediatric health care without these generous contributions. Every gift is important, and these $1, $3, and $5 donations quickly add up to make a big difference. We thank Publix and its employees for these efforts."
Publix has been a national CMN Hospitals partner for 25 years, raising more than $34 million to support the charity's member hospitals. Watch the Publix 25 Reasons video on YouTube to see 25 reasons community members are grateful to Publix for supporting CMN Hospitals, including reason #21 from CHOG patient Emma Taylor and mom Nikki.
For the next three weeks, more than 1,000 Publix stores in Georgia, South Carolina, Florida, Alabama, North Carolina and Tennessee are participating in the fundraiser. In exchange for each donation, Publix customers will receive a set of coupons with savings of up to $20 on popular brands, including Kellogg's, Mars, Wrigley, good2grow, Glad, Coke/Dasani, Georgia Pacific, Oil Dri, and Frito Lay.
Funds raised locally will stay in Augusta to support CHOG patients and programs.
About Children's Hospital of Georgia
The 154-bed not-for-profit Children's Hospital of Georgia is the second-largest children's hospital in the state, providing the highest level of pediatric critical care and neonatal intensive care, as well as a wide range of general and complex health care for children. CHOG was recently ranked as the nation's top performing hospital in pediatric quality and safety by the University HealthSystem Consortium of academic medical centers. Visit facebook.com/GAChildrens or follow on Twitter at twitter.com/GAChildrens
About Publix Super Markets, Inc.
Publix is privately owned and operated by its 179,500 employees, with 2015 sales of $32.4 billion. Currently Publix has 1,115 stores in Florida, Georgia, Alabama, Tennessee, South Carolina and North Carolina. The company has been named one of Fortune's "100 Best Companies to Work For in America" for 19 consecutive years. In addition, Publix's dedication to superior quality and customer service is recognized among the top in the grocery business. For more information, visit the company's website, corporate.publix.com.
About Children's Miracle Network Hospitals
Children's Miracle Network Hospitals® raises funds and awareness for 170 member hospitals that provide 32 million treatments each year to kids across the U.S. and Canada. Donations stay local to fund critical treatments and healthcare services, pediatric medical equipment and charitable care. Since 1983, Children's Miracle Network Hospitals has raised more than $5 billion, most of it $1 at a time through the charity's Miracle Balloon icon. Its various fundraising partners and programs support the nonprofit's mission to save and improve the lives of as many children as possible. Find out why children's hospitals need community support, identify your member hospital and learn how you can Put Your Money Where the Miracles Are, at www.CMNHospitals.org and www.facebook.com/CMNHospitals.