Dr. Quentin Davis, assistant chair of Augusta University's Department of Psychological Sciences, has been named the university's Director of the Center for Undergraduate Research and Scholarship (CURS), effective January 1, 2019.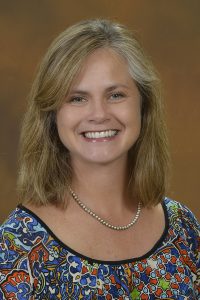 In her new role, Davis will work closely with Dr.  Zach Kelehear, vice president for Instruction and Innovation at Augusta University, to lead the center's efforts in engaging undergraduates in faculty-led research. An important goal for Dr. Davis involves her expanding collaborative opportunities for undergraduates to all 10 schools and colleges and in so doing prepare high-qualified students for competitive graduate and professional school programs in multiple disciplines.
"To have been a part of CURS since its conception in 2007, I am honored to be afforded the opportunity to further the advancement of the university's collaborative student-faculty research culture," said Davis. "While we already have wonderful support for CURS, I look forward to finding new ways to bring undergraduate research to the forefront while ensuring there is representation by all our scholars in the arts, humanities and sciences."
Davis joined Augusta University in 2003 and currently serves as the undergraduate program director in the  Department of Psychological Sciences in the College of Science and Mathematics. With her leadership, the department began offering students cross-disciplinary and cross-campus scholarship opportunities, which opened the door to undergraduate research with behavioral psychologists on the university's Health Sciences Campus.
"Dr. Davis is a great asset to our university, because she is invested in the success of our undergraduates and dedicated to making research the foundation of the undergraduate experience," said Kelehear.
Davis is an award-winning researcher whose work has been featured in several publications, such as the International Journal of Comparative Psychology and the Encyclopedia of Animal Cognition and Behavior.
She received her bachelor's degree from Mayville College, a master's degree from Central Washington University and a doctorate from the University of Nevada, Reno.
Learn more about the Center for Undergraduate Research and Scholarship.