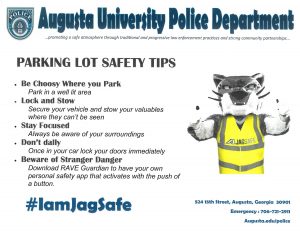 With the weather warming up, the amount of distractions encountered by drivers as well as pedestrians increases. To promote safety around campus and the community, the Augusta University Police Department has created a list of tips and information to help awareness.
Distracted driving tips and information
Texting while driving makes the risk of crashing 23 times higher, and studies have shown that voice-to-text is even more distracting than texting by hand.
Although texting is riskier because it includes visual, manual and cognitive distractions, drivers on the phone are involved in more accidents than those who text.
When cognitively distracted, drivers experience inattention blindness and slower response times.
Distracted driver collisions occur every 24 seconds. One in four collisions is due to distracted driving, resulting in 400,000 injuries and 3,000 deaths annually.
Understand the risks of using phones while driving and identify tips to prevent distracted driving.
As of summer 2018, it is illegal to handle a phone while driving in Georgia.
Campus safety
The Augusta University police department has implemented signs around campus, encouraging everyone to be more aware of their surroundings on and off campus. Students, faculty and staff are also encouraged to download the Rave Guardian app (free in both the Apple Store and Google Play), which connects directly with the police department.
For more information, contact the Augusta University Police Department or call 706-721-2911.