Dr. Gayle Sims Lee was a strong woman. A single mom, she finished her bachelor's degree when her children were still young and started her teaching career. She earned her master's while her children were still in grade school and a doctorate when they were grown.  
"She was a career educator," said her daughter, Dr. Rebecca G. Harper, associate professor of literacy in the Augusta University College of Education.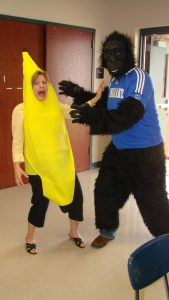 Lee put 31 years into helping South Carolina's schoolchildren learn and grow into functional and educated adults, most recently at Indian Land Elementary School. Then in September 2016, she was diagnosed with inoperable brain cancer.
"Mom was teaching the week she was admitted to the hospital with what we thought was a stroke."  Four months later, she passed away from the disease at the age of 60.
Since the unexpected loss of her mother, Harper has looked for ways to remember and venerate the single mom who raised her. She hosts a blood drive every year at her mother's school in her memory. She puts up gray bows in downtown Aiken to commemorate this month, May, as brain cancer awareness month. She sponsors an award at her mother's school in her memory.  
But when honoring a lifelong teacher, Harper said that gifting a student with education was the most appropriate remembrance possible. 
"It was important for me to do something to remember her and to help others," Harper said. "Mom was a first-generation college student and she always instilled the importance of education in her children." 
So, Harper established the Dr. Gayle Sims Lee Endowed Scholarship for graduate students who are classroom teachers and are pursuing a degree in curriculum or instruction. Preference is given to first generation college students. 
"I've spent 12 years of my life at Augusta University, so it was a natural fit to give back to a place where I've spent most of my work life," Harper said. 
"Dr. Harper's investment in future educators by honoring her mother with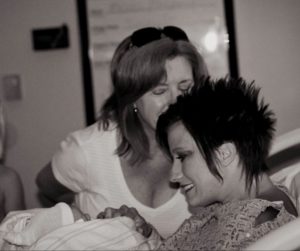 a scholarship in the College of Education reminds all of us to give back because so much has been given to us," said Dr. Wayne Lord, chair of the Department of Advanced Studies and Innovation, who recently gifted his own endowment to the university.
"While I never met Rebecca Harper's mother, I imagine her as the inspiration for the unbridled enthusiasm Dr. Harper brings to teaching. Refreshing, unyielding, and 'don't mess with me' are characteristics of Dr. Harper that I can imagine her inheriting from her mother, who was also an educator." 
"Scholarships and endowments are a very meaningful way to remember or honor someone," said Wes Zamzow, director of Philanthropy at Augusta University.
And the process of establishing a fund is not as daunting as one might imagine. An individual can break up the donations over three years, or partner with friends and family to honor a loved one, or host fundraisers to establish or grow the endowment. Once established, the money is invested with a larger pool of assets. That way, the endowment and the award can grow every year. 
"Scholarships also contribute to the growth of the university through recruitment and retention, and we cannot understate the impact that they have on the individual student who receives financial support," Zamzow said.  
And it keeps the memory of a cherished individual alive. Harper said that after about six weeks, people stop asking about a deceased loved one. "People expect you to be OK once some time has passed, but what I think most people don't realize is that grief never really stops — it just changes.  I miss my mother every single time I open my eyes." 
While Harper will never forget the lessons her mother taught her, others now are impacted by the scholarship gift to the university.
"That's what I consider a legacy. Continuing to do this keeps her at the forefront of people's minds," Harper said. "At least once a year, when they announce that award, someone says her name. And that's awesome because while the recipient may only know her as Gayle Lee, I got to know her as Mom."