In the 25 years since Desert Storm, the percentage of female veterans living with conditions linked to Gulf War Illness (GWI) may have surpassed that of their male counterparts, said Steven Coughlin, associate professor in the Augusta University College of Allied Health Sciences.
Coughlin hopes to shed light on these health disparities with the development of his Gulf War Women's Health Cohort (GWWHC), a group funded by a $1.1 million Gulf War Illness Epidemiology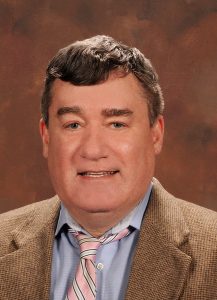 Research Award from the U.S. Department of Defense.
Gulf War Illness refers to a group of chronic symptoms that affect men and women who served in the Persian Gulf War in 1990 and 1991. Those symptoms, in many cases unexplained, include fatigue, insomnia, headaches, memory loss, joint and muscle pain, and respiratory disorders.
Coughlin says the GWWHC will consist of nearly 8,000 female Gulf War veterans who served during the 1991 Gulf War era and participated in previous and ongoing population studies. With the use of telephone surveys and questionnaires, he and his research team will collect and examine data from the veterans on topics including the prevalence and patterns of Gulf War Illness symptoms among men and women, diagnosed medical conditions, reproductive health and birth outcomes.
"I'm honored to have the support of the Department of Defense on such an important topic that impacts one of the largest populations of U.S. women who served in a war zone in military history," Coughlin said. "I am confident this large-scale collaborative study will improve our understanding of Gulf War Illness in women.  Our research team includes experts at leading universities, the U.S. Air Force, and the Veterans Affairs."
Kristy Lidie, the program manager for the U.S. Army Medical Research and Materiel Command, says she is optimistic about Coughlin's work as it will contribute to their efforts in improving the health and lives of ill Gulf War veterans.
"The Gulf War Illness Epidemiology Research Award is intended to support population-based research to obtain a better understanding of mortality, morbidity and symptomatology over time in veterans deployed in the 1990-1991 Persian Gulf War and afflicted by GWI," said Lidie. "Dr. Coughlin's award will examine the prevalence and patterns of symptoms among women who served, and will lay the groundwork for future research aimed at clinical treatment. Establishing this cohort can have a significant impact for a group of underrepresented veterans."
The U.S. Army Medical Research Acquisition Activity is the awarding and administering acquisition office, and this work was supported by the Office of the Assistant Secretary of Defense for Health Affairs, through the Gulf War Illness Research Program under Award No. W81XWH-16-1-0774.