Each month, Jagwire features a cadet who is enrolled in Augusta University's ROTC program and a member of the Jaguar Army ROTC Battalion. For September, we spoke with Cadet Jalyssa Jimenez.
Where are you from and what high school did you attend?
I am originally from Bronx, New York, and moved to Evans about seven years ago, where I attended and graduated from Evans High School.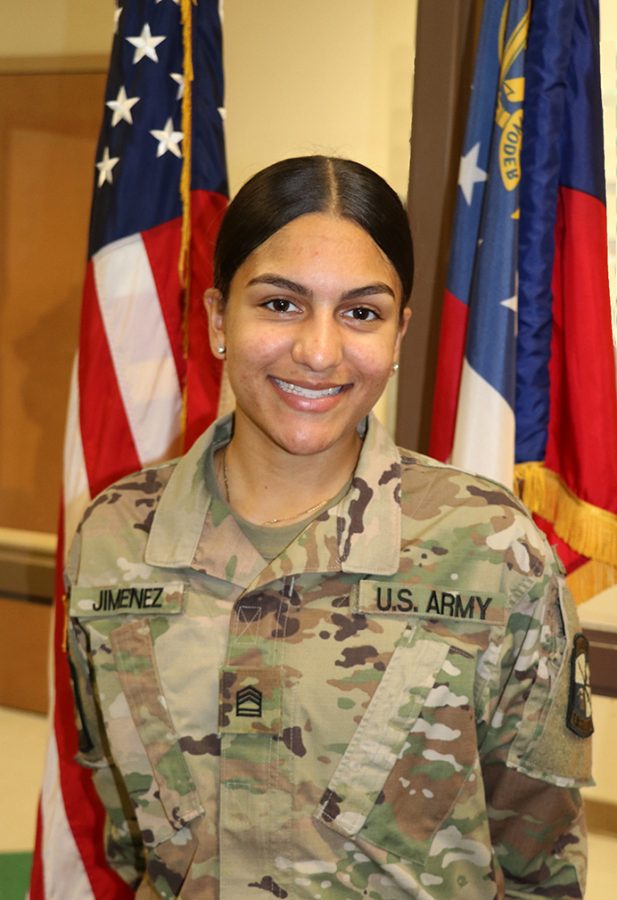 Why did you choose to attend Augusta University?
I decided to attend Augusta University because it was close to home and I knew that academically, AU had a lot to offer.
How did you become interested in the ROTC/military?
I was always interested in the Army but too scared to actually move forward with the interest. After my first year of college, I saw that AU had an ROTC program and I decided to give it a try, even though I knew nothing about the military. I knew it wouldn't hurt to try something new while also feeling like it would be a great experience to have.
Why did you choose to pursue the degree that you've selected?
I actually got to college and changed my major three times before I finally decided criminal justice (in the Pamplin College of Arts, Humanities and Social Sciences) was the one for me. I took a criminal justice class as an elective and was genuinely so interested in everything I was learning. This interest led me to doing research on the actual degree and the jobs I would be able to obtain with this major. I knew investigation always sparked my interest as well as helping and protecting those around me, which is exactly what these career choices would give me the opportunity to do.
What are your long-term plans for the military?
I plan on hopefully doing a full 20 years and retiring in the military. I know the military has a lot to offer not only for me but for my future family as well.
What is one of the biggest misconceptions of being in the ROTC?
I think the biggest misconception of being in ROTC might be that it requires too much of a commitment. The goal of ROTC is of course to create amazing future leaders of the Army but ROTC actually does not require you to make that choice until your third year. The military isn't for everyone; ROTC allows you to give it a try before you actually decide that it isn't for you. Yes, if you decide to stay with the program, it is a commitment, but you can always do a year or two in ROTC to really decide if you enjoy it or not. Life's too short to not try something new.
Use one word to describe cadet life.
Knowledgeable.
What has been the hardest adjustment to preparing for the military?
The hardest adjustment to preparing for the military is having to do everything a certain way. We all have our own ways of doing everything we do, literally. We come from different backgrounds and learn things differently. Being in the military, it's all just following Army doctrine. It sounds easy to just follow the rules, which is true, but when you're so comfortable doing something one way, it takes a few screw-ups to finally do it the way you're supposed to.
What are you most excited about now that you are a part of Jaguar Nation and the Jaguar Battalion?
I'm most excited for the new opportunities and doors that I know will open for me while being a part of the Jaguar Nation and the Jaguar Battalion. I have met so many new people thus far and will continue to build these connections with people. I know being a part of this family will lead me in the right direction for a bright future.
Use one word to sum up your experience as a Jaguar?
Worthwhile.