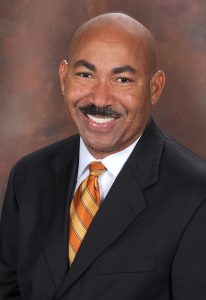 Dr. Lester Pretlow has been named dean of the College of Allied Health Sciences at Augusta University, effective May 1, 2018. Pretlow has served in the interim role since August 2017.
"Dr. Pretlow is a nationally recognized expert in medical technology, and we are pleased to have such an accomplished scholar lead the College of Allied Health Sciences," said Dr. Gretchen Caughman, executive vice president for Academic Affairs and provost. "With over 20 years in higher education, he has a proven track record of successful leadership, and brings a wealth of experience in advancing faculty and student success."
Pretlow joined the College of Allied Health Sciences in 2002, where he led the design and development of the university's translational research laboratory. Prior to that, he served as a captain in the U.S. Army and held a leadership position in the Department of Pathology at Eisenhower Army Medical Center at Fort Gordon.
Since arriving at the university, Pretlow has earned nearly $1 million in grants and has served as the College's associate dean for Academic Affairs since 2013. In that role, he was instrumental in launching several degree and certification programs, including the PhD in Applied Health Sciences, the BS in Health Services, and a certificate in Traditional Chinese Medicine.
"It is an honor to lead such an extraordinary community of scholars and I look forward to working with our faculty and students to advance our allied health programs," Pretlow said.
Pretlow is a highly-acclaimed speaker whose work has been published in numerous publications and has advised on research projects looking at the prevalence of HPV and Chlamydia in African-American women and the association between Major Depression Disorder and neuroendocrine hormones.
He is a member of the American Society for Clinical Laboratory Science and serves as a reviewer for the society's Journal of Clinical Laboratory Science.
Pretlow earned his bachelor's degree from the University of Virginia and a doctoral degree from Old Dominion University and Eastern Virginia Medical School.