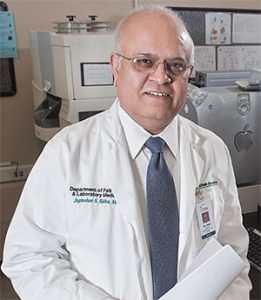 Jagmohan Sidhu, MD, is a board-certified anatomic and clinical pathologist with subspecialty board certification in hematopathology. He will be giving a presentation on Monday, September 19 at noon in the Murphey Building Conference room (BF103) entitled "Testing for Hereditary Hypercoagulability: What, Who, When, and Why?"
Dr. Sidhu is the Medical Director and Chairman of the Department of Pathology and Laboratory Medicine at the United Health Services Hospitals in Binghamton, NY and a Clinical Professor of Pathology at the SUNY Upstate Medical University in Syracuse. He completed his CP residency at New York Medical College, Valhalla NY, AP residency at the Mount Sinai Medical Center, New York, surgical pathology fellowship at the University of Texas Medical Branch at Galveston, and hematopathology fellowship at SUNY Upstate Medical University in Syracuse, NY. He has been practicing anatomic pathology and hematopathology since 1994.
Dr. Sidhu has been involved in teaching medical students, pathology residents and residents from other specialties. His most notable achievement in the area of teaching is the organization of an annual hematology/hematopathology symposium in Central New York for the last 11 years. Most hematopathologists, many pathology residents and all hematopathology fellows from Upstate New York participate in this symposium either as speakers or as attendees. His other notable achievements include setting up a flow cytometry lab and an immunohistochemistry lab at UHS Hospitals back in 1996, implementing an excellent QA program and L4E system of workload distribution in his department in 2004 and developing algorithmic approaches for working-up hematology cases.
Dr. Sidhu has served and is serving on numerous hospital/university committees, has published many papers in various disciplines of pathology, has presented many times in regional, national and international conferences, and has collaborated in research projects with Mayo Clinic and will start collaborating with a researcher at Stanford University in next few months.