Dr. Alexis Pope has been named associate vice president for Enrollment Management at Augusta University, effective August 1. Pope comes to Augusta University with 15 years of experience in higher education, specifically in admissions leadership.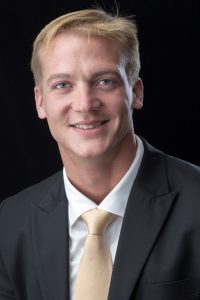 "We are delighted to welcome Dr. Pope to our team," said Dr. Susan Davies, vice president for Enrollment and Student Affairs at Augusta University. "His strategic approach grounded in data analytics combined with his passion for serving students empowers him to lead our enrollment growth now and for years to come."
In his role as AVP for Enrollment Management, Pope will sustain and improve the university's recent admissions and enrollment trajectory; provide strategic and tactical leadership through data analysis, recruitment tactics, admissions technology, financial aid packaging polices, and transition practices; and support student access and success through strong partnerships and collaborative relationships with faculty, staff, students, academic departments and senior administrators.
Specifically, he will supervise the departments of Academic Admissions, Financial Aid, Military and Veteran Services, and New Student and Family Transitions.
Pope is eager to join the Augusta University community.
"Augusta University clearly has high expectations for student success and is committed to providing a destination-of-choice experience for students," he said. "I couldn't be more excited to be a Jaguar."
Pope served previously as director of Admissions at both Appalachian State University and Tennessee Tech University.
He was selected to complete the College Board's Enrollment Leadership Academy in 2013 and has served on the College Board's Southern Regional Council for five years, with one year as chair.
Pope earned his bachelor's and master's degrees in chemistry/biology education and educational leadership, respectively, from Tennessee Tech University. He earned his doctorate in higher education administration from Tennessee State University.
Learn more about the Division of Enrollment and Student Affairs.