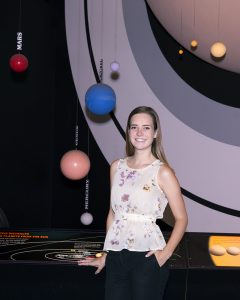 Sophomore physics student Kendra Sands knows how important encouragement can be for girls interested in science, technology, engineering and mathematics (STEM) fields, which is why she's so happy with her summer internship at the Smithsonian Institute's National Air and Space Museum (NASM) in Washington, D.C. There, she has the opportunity to be a role model for lots of young girls.
"I want more girls who are considering science to have females they can look up to," she said. "Being here at the museum allows me to work with younger girls and tell them my story as well as share my passion for physics. It only took one person to inspire me, and I could possibly be that one person to someone else."
One of her main projects is to evaluate the observatory and telescope programs and find ways for them to be more engaging to girls. Side projects include being involved in the museum's redesign, particularly giving more prominent females in STEM a chance to be properly highlighted.
But it's interacting with young girls that really inspires her.
"I'm working with two other girls on this project, a computer science major and a mechanical engineering major," Sands said. "When we're teaching, we really put an emphasis on making sure we're asking the girls questions and making sure we're telling them that it's not just a man's field."
Sometimes, it's the parents who require the most convincing. Her own mother, in fact, took a while to warm up to her decision to enroll in Augusta University's physics department.
"My mom told me I'd be a great dermatologist, and I was like, 'Okay,' because I didn't have anything better planned," she said. "But then I took my first physics class in high school, and when we reached the unit on modern astrophysics, I realized, 'Wow – this stuff is cool.'"
Her mom is all for it now, but for a while it was an uphill battle convincing her it would be a good major to go into.
Often, she says, parents just don't really know what STEM jobs are.
"They know what a doctor does, and they know what a lawyer does – that's probably why they push kids toward those fields," she said. "They know they make money."
Working on the third floor of the NASM until her 10-week internship ends in early August, Sands has a postcard view of the Capitol and access to the museum's extensive library. She's also regularly surprised by the stature of the people who drop by.
"We have astronauts come in here all the time," she said. "Christina Koch was in here the other day. She acted like it was no big deal, but everyone was like, 'Oh, my gosh – Christina Koch, an astronaut.'"
Having been dual enrolled her junior and senior year at Grovetown High School, Sands finished most of her core classes last spring and is ready to start her upper-level math in the fall along with some computer programing classes.
She'll also be one of six students in Dr. Andy Hauger's electronics lab, where she's anxious to see the physics behind the electronics.
Being exposed to like-minded people has been inspiring, she says, and the internship has allowed her to interact with several people who are firmly committed to their future in STEM.
"Here, there are some really great workers who gave up stuff some college students find important, like boyfriends and partying and stuff, just so they can pursue a graduate degree," she said. "They're so happy and so proud of themselves."
Eventually, Sands wants to earn her doctorate in astrophysics, and her dream job would be working as a researcher for NASA or SpaceX. She's particularly interested in dark energy and dark matter.
"We don't really have all the pieces to define what it is, and I'd love to start putting some of those pieces together," she said. "Even if my work leads nowhere, I hope it would be a good foundation for another scientist in the future."