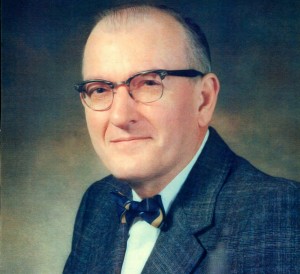 A $1 million gift from the estate of Marian P. Haley will establish the Dr. Lamar B. Peacock, M.D. Distinguished Chair for the Study of Immunological Disease at the Medical College of Georgia. The University System of Georgia Board of Regents approved the chair at their September meeting.
"My husband was an early advocate of immunology training, and he was so happy when Marian told him she was going to make this gift in her estate plans," said Mrs. Jane Peacock, Peacock's widow. "I am also very pleased that my husband will be honored with this wonderful gift." Mrs. Haley, of Albany, was Peacock's sister.
Peacock, a native of Albany himself, attended Emory University, graduating in 1941. Later that summer, he contracted a severe case of polio and was confined to an iron lung for 10 days. His rehabilitation at Roosevelt Warm Springs sparked his interest in medicine and his application to the state's public medical school. He graduated in 1946, first in his class. He completed a residency in internal medicine, at MCG under Dr. Virgil Sydenstricker, and went on to an allergy and immunology fellowship at the University of Virginia School of Medicine. He began practicing in Atlanta in 1950.
"We are humbled that Mrs. Haley chose the Medical College of Georgia as the place to leave such a lasting and impactful tribute to her brother," said MCG Dean Dr. Peter F. Buckley. "Not only was Dr. Peacock a terrific leader and supporter of his medical school, but a venerable physician and human being who wouldn't even let a disease like polio stop him. We are honored to help carry on his legacy at his alma mater."
"This kind of lasting contribution to the medical school not only reflects the caliber of our alumni, but will have an enormous impact on the level of expertise we have in immunology at Georgia's medical school," added Dr. Michael Madaio, chairman of the MCG Department of Medicine.
Peacock was the first vice president of the Medical Association of Georgia, and he was appointed to the Georgia State Board of Health in 1966 by Gov. Carl Sanders. He directed and expanded the medicine residency program at Georgia Baptist Hospital – now Atlanta Medical Center, where he was also chief of medicine for 14 years. He also served as president of the Southeastern Allergy Association and the American College of Allergy and Immunology.
Peacock served as the president of both the MCG Alumni Association and as chairman of the MCG Foundation and received MCG's Physician's Physician Award in 1984. He and his wife established an endowment for the Dr. Lamar B. and Jane B. Peacock Medicine Library on the fifth floor of Georgia Regents Medical Center.
When his post-polio syndrome began to limit his mobility in 1991, he retired and began a "telephone ministry" to call friends and former patients to offer cheer and comfort, his family said.