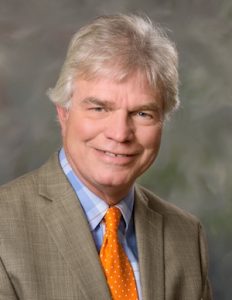 Dr. Doug Patten, chief medical officer for the Georgia Hospital Association, has been named campus associate dean for the Southwest Campus of the Medical College of Georgia at Augusta University effective Jan. 1.
"In his new role as the leader of our Southwest Campus, Dr. Patten will guide our faculty recruitment efforts, support our students as they complete their clinically intense third and fourth years of medical school and advocate for them as they represent MCG in Southwest Georgia," said Dr. Kathryn Martin, associate dean for regional campus coordination.
Patten was integral to the development of the campus, MCG's first regional campus based in Albany at Phoebe Putney Health System, where he was serving as chief medical officer at the time and where the Southwest Campus offices are still located.
"Dr. Patten has been a longtime collaborator for the Medical College of Georgia, who helped us establish the very beginnings of our statewide educational model," said Dr. Peter F. Buckley, MCG dean. "He has been and continues to be a terrific colleague, and we are excited to have him join us in this leadership role."
"Dr. Patten's tremendous knowledge and commitment to the growth of the medical community in the Southwest corner of our state will be integral as we continue to expand our educational efforts there," added Dr. Paul Wallach, MCG vice dean for academic affairs. "We are thrilled to have him help lead the statewide growth of Georgia's public medical school."
A surgeon by training, Patten has served a variety of roles in health care administration over the last 12 years, including as the head of Phoebe's graduate medical education efforts and as its senior vice president for medical affairs. In March 2014, he stepped in to lead the hospital's Sumter Medical Center before assuming his position at the Georgia Hospital Association later that year.
At the GHA, he helps support Georgia hospitals that have demonstrated their commitment to improving quality, reducing harm and lowering the cost of care.
Patten is a member of the boards of directors for the Georgia Health Information Network, the Phoebe Foundation and Albany Area Primary Health Care, a multisite and multispecialty federally qualified health center. He is a fellow of the American College of Surgeons and a member of the American College of Healthcare Executives.
He earned his medical degree from Louisiana State University in New Orleans, before completing an internship at Orlando Regional Medical Center and a general surgery residency at the University of South Florida. Before joining the Phoebe administration, Patten practiced as a general surgeon in Cordele and Hawkinsville.
Although MCG students have participated in clinical practice experiences in Southwest Georgia for decades, a formal campus was not established there until 2005, and the first residential students arrived in 2010. Since then, more than 100 students have lived and learned alongside Southwest Georgia physicians – something that's important to ensuring the area has plenty of physicians in the future.
More than 140 volunteer physician faculty offer students access to rotations in internal medicine, family medicine, obstetrics and gynecology, pediatrics, psychiatry, neurology, general surgery, otolaryngology, urology and more.
Unique to the Southwest Campus is the Certificate of Rural Community Health, targeted at medical students who have expressed interest in going back to a rural area to practice. The campus is also home to the Physician Leadership Advocacy curriculum, which includes additional training in leadership skills, legal issues, advocacy and an overarching review of the health care systems locally, nationally and internationally – all with the goal of creating physicians who are involved in their communities, in professional development, and who can advocate on behalf of their colleagues across the state and nation.
Students who attend the Southwest Campus also complete clinical rotations at sites throughout Southwest Georgia, including Tifton, Cordele, Valdosta, Albany, LaGrange, Americus, Thomasville, Warm Springs and Columbus.