Paceline's big annual fundraiser, PaceDay, is coming Oct. 14-15.
PaceDay is a cornerstone of Paceline's year-round movement to cure cancer faster, together. 2023 marks its fifth edition and biggest participation yet with teams and individuals from Augusta and far beyond.
This event is open to everyone, offering opportunities to be involved on and off the bike with 100% of all fundraising going to innovative cancer research at the Georgia Cancer Center.
PaceDay 2023 is centered around The Augusta Common, including its opening ceremony from 5-8 p.m. on Saturday, Oct. 14, which will be fully open to the public.
Everyone is invited to experience the live music and cancer fighting stories during opening ceremony; food trucks will be available on-site. The fully supported fundraising bike rides and finish line festival take place throughout the next day, Sunday, Oct. 15.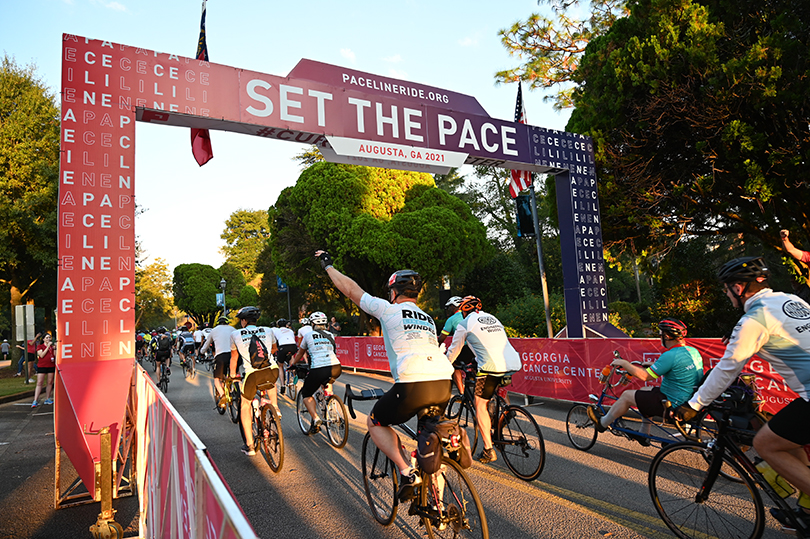 Event details for the PaceDay Opening Ceremony can be found at the official PaceDay Facebook event page.
Registration for PaceDay is free with Augusta University sponsoring Team Jaguar.
Martyn Jones, president of Paceline, said, "Paceline is a community movement that has raised well over $1 million for cancer research since our first annual PaceDay event in 2019; this is made possible through year-round support from our community."
Thanks to founding partner Medical College of Georgia Foundation, 100% of all participant-raised funds supports innovative cancer research at the Georgia Cancer Center. The organization recently announced nine new cancer research projects from 2022 funds raised by the Paceline community.
This year's PaceDay features three fully supported road routes, as well as "The Cyber City Circuit," a 1-mile loop in downtown Augusta closed to traffic, especially suited for young riders and adults who are less comfortable riding on the road.