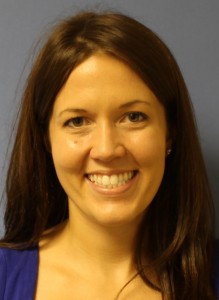 AUGUSTA, Ga.- Selfless, optimistic, and nurturing are a few of the sentiments used to describe Physician Assistant Program graduate Jenny Dickson, this year's winner of the John F. Beard Award for Compassionate Care at Georgia Regents University.
The $25,000 award was presented to Dickson on May 7 during the GRU College of Allied Health Sciences Hooding and Honors Ceremony. The Jefferson County native says she was humbled to be honored by her peers and faculty.
"When I heard my name being called that evening, I was in complete disbelief and felt beyond blessed to be recognized for such a prestigious award," said Dickson.
Her passion for excellence in health care made an impression on fellow classmate Courtney Brooks, whose nomination letter, states how Dickson's work ethic throughout her clinical rotations exemplified what it meant to make patient care a top priority.
"She holds patients when they cry, takes the time to listen and accurately diagnose the patients' illnesses, and maintains a humble and happy attitude with everyone she meets," Brooks wrote. "Most recently, Jenny took on 24-hour shifts in a rural emergency room voluntarily and saw each patient with the same individual attention and high standard of care regardless of time of day or level of injury. She is truly deserving of recognition."
Another nominator, Stevie Redmond, Assistant Professor in GRU's Physician Assistant Department, wrote, "While on her Psychiatry rotation, a 19-year-old female was admitted with a diagnosis of bipolar disorder and generalized anxiety disorder. Jenny worked with the patient on a daily basis and eventually got her to make a list of both short-term and long-term goals while keeping the mother involved." Dickson was commended for contributing to this young patient's emotional and physical health.
During her time at GRU, Dickson volunteered for the John Barrow Health Fair and worked with the Christ Church Health Clinic to provide screenings to uninsured patients in Augusta.
She attributes her work with the non-profit Hearts and Hands Clinic in Statesboro as her inspiration to pursue a career in the medical field.
"I will never forget working with the clinic and how I fell in love with helping people, even with simple things such as making sure they had their prescriptions," said Dickson. "Those were indeed special moments."
Dickson previously earned her bachelor's and master's degrees in biology from Georgia Southern University, and this month completed her master's degree to become a Physician Assistant from GRU. She holds certifications in Advance Cardiac Life Support and Basic Life Support and is a member of several professional organizations.
The $25,000 annual John F. Beard Award is endowed by William Porter "Billy" Payne and his wife, Martha, to a graduating GRU student who exemplifies caring and compassion in health care. Payne, Chairman of the Augusta National Golf Club, established the Beard award in 1998 in memory of his father-in-law, who died of cancer in 1997. The award honors GRU President Emeritus Francis J. Tedesco and Beard's physician, Dr. Mark F. Williams, a 1988 GRU Medical College of Georgia graduate who treated Beard during his hospitalization at Georgia Regents Medical Center.
###
Georgia Regents University is one of four public comprehensive research universities in the state with nearly 10,000 students enrolled in its nine colleges and schools, which include the Medical College of Georgia – the nation's 13th-oldest medical school – the nationally-ranked Hull College of Business and Georgia's only College of Dental Medicine. The clinical enterprise associated with the university includes the 478-bed Georgia Regents Medical Center and the 154-bed Children's Hospital of Georgia. GRU is a unit of the University System of Georgia and an equal opportunity institution. http://www.gru.edu