U.S. Army veteran and Augusta University graduate student Cody Ward has been named a 2016 Tillman Military Scholar. In addition to Ward being one of 60 selected from over 2,000 applicants, he is the second recipient for Augusta University to receive the prestigious award.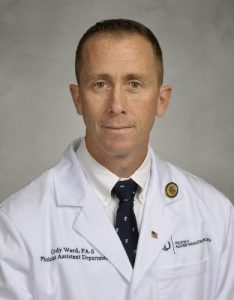 The Pat Tillman Foundation created the Tillman Military Scholars program in 2008 to honor the legacy of Pat Tillman, a former NFL player who left his career to enlist in the U.S. Army after 9/11. Tillman served as an Army Ranger in Iraq and Afghanistan before being killed in active service in 2004.
The program supports active-duty service members, veterans and military spouses through educational scholarships. The Tillman Military Scholarship covers direct study-related expenses, including tuition and fees for full-time students pursuing undergraduate, graduate or post-graduate degrees at a public or private, U.S.-based accredited institution.
 Much like Tillman, Ward served as a U.S. Army Ranger and even had an opportunity to briefly meet the former NFL player during a deployment to Afghanistan. Ward says he will forever cherish that moment, because it makes receiving this award all the more special.
 "I am deeply honored to have been chosen and grateful to have an opportunity to share in Pat Tillman's legacy," said Ward. "This award is not so much about me, but about the men and women, like Tillman, that sacrificed so much for our country."
Ward is a student in the university's Master of Physician Assistant program and has worked as an Emergency Medical Technician and Paramedic for Bulloch County EMS since 2009. His decision to enter the MPA program was influenced by his experience as an EMT and he hopes to continue serving his community as a first responder upon his graduation next spring.
"I developed such a love for medicine while working as a paramedic, and I've created bonds with my patients that often left me pondering on their outcomes after I've transferred them to the hospital," said Ward. "I have always wanted to be a part of the complete healing process and becoming a physician assistant will give me a chance to see both ends of the spectrum."
Ward received his bachelor's degree from Georgia Southern University and received his Emergency Medical Technician training from Rescue Training, Inc.