How long does it take to make a difference?
For LeDarius Scott, president of the undergraduate Student Government Association, the answer is simple. Sixteen days. It takes 16 days — 384 hours — to write, practice, perfect and deliver a speech with the power to shape lives.
At 19, Scott, a sophomore political science major, has his technique down to a science. It begins with brainstorming; what topic, what point of view will both draw attention and open minds? From there, it's on to outlining: what do I say, and how do I say it? This stage makes up the bulk of Scott's 16-day process, clocking in at just under two weeks.
"I'm not quick to put the pen to paper," he said. "I allow my thoughts and ideas to come to fruition first."
Once the speech is drafted, it's time for practice. Usually he spends just two days preparing, ensuring that when the moment comes, everything he wants to say gets said and, more importantly, said well.
"I don't practice until I get it right," he said. "I practice until I can't get it wrong."
It's a time-tested routine, and it's one he's used to great effect in his short collegiate career. He used it as the sophomore speaker for the Class of 2020 freshman convocation. He used it while campaigning for the presidency of the undergraduate SGA. He used it to present at the 2016 President's Gala.
So, when he was invited to speak at the 2017 University System of Georgia Regents' Scholarship Gala, it seemed only natural for Scott to fall into that same routine. It would be a more daunting speech — that much was a given, considering the lofty profile of his audience — but he vowed to approach it the way he approached any other speech.
Write, practice, perfect and deliver. No doubts. No surprises.
But life, as Scott well knows, doesn't always play out so smoothly.
Breaking the Cycle
Nothing about LeDarius Scott screams "poor."
He's a confident, articulate youth — abundantly humble and easy to talk to. He speaks plainly and calmly, managing to convey both his emotions and ideas in the simplest terms without coming across as "preachy" or, worse, condescending. Even his clothes — his crisply ironed shirts, his sharp, spotless glasses — tell the story of someone who, even in his teens, already has his life all put together.
Serious, maybe. Outgoing, certainly. But never poor.
In large part, Scott doesn't fit the "typical image" of a youth who's struggled with poverty because there is no "typical image." The challenge of living with poverty — a challenge Scott calls the "cycle of adversity" — comes in all shapes, sizes, colors and voices. For some it comes in the form of a loved one's death or a tragedy at home. For Scott, it came in the form of a pink slip.
"My father worked in the textile industry for several years before the Great Recession hit," he said. "His job got hit."
It's a story all too familiar to tradespeople. The market hit a low point. The talks began. Layoffs. Cutbacks. Site closings. Then, one morning, before the rumors even started to register, Scott's father arrived at work to find police officers directing his coworkers out of the building. He, too, was told to leave.
Already in his mid-40s, and with deteriorating health, Scott's father took with him only what he'd saved for retirement: roughly $30,000. Living off a quickly dwindling nest egg and sustained only by the $14,000 Scott's mother earned yearly as a childcare provider, the Scotts struggled to find new ways to survive.
"Any type of federal assistance, you name it, we had it," Scott said.
Like any good parents, the Scotts did everything they could to keep life running smoothly for their son. And, like any good child, Scott pretended not to notice.
"It was tough to watch as a kid," he said. "Your parents think you don't understand what it's like, but I understood. I got it."
Seeing what his parents went through, Scott found a new appreciation for education. He applied himself in school, never taking for granted any opportunity education provided him. He also began making plans. After graduation, he knew he had a choice to make. He could enlist in the military, or he could find a way to carry on with his education.
It seemed a simple choice. Up to that point, education had been his biggest priority. As an aspiring politician, he knew he wanted that to continue. There was only one problem.
"I needed money," Scott said. "I thought, 'my parents don't have it. I don't have it. I don't know who does have it.'"
So, desperate and more than a little afraid, he did what so many other students in need have done before him: He applied for a scholarship.
"There is a cycle of adversity that a lot of students have to grow up and live through," he said. "The only way to break that cycle of struggle, of adversity, is through education. You need scholarships to break that cycle."
Scott said that earning his first, one of at least two he'll never forget, was a life-changing experience. It emboldened him, empowered him. It opened the door for a college career and, perhaps, even a political one in the future. But it also helped him break the cycle.
While he's still looking forward, Scott said he's always looking back, too — constantly reminding himself of the gift he's been given.
"The first thing I thought was just thanking God for everything, but really, it was just telling myself I can't throw this away," he said. "I got these scholarships, they're here to help but they're not here to play with."
And played, he hasn't.
Less than a month into his term as undergraduate SGA president, he's put together his entire cabinet, helped to establish a full undergraduate senate and judicial branch, and is well on his way toward reviving the university's Freshman Council.
"When I was campaigning, my promise was to further establish the culture of Augusta University," he said. "I see the Freshman Council being that spirit committee to help share the pride of being a Jaguar."
The work is going smoothly. So far, Scott said he's met with countless students, faculty and administrators in a bid to give every student at the university a voice. As smooth as it is, though, he said he's still working on coming to grips with his latest good fortune.
"I still can't fathom it to this day," he said with a smile. "I still haven't internalized it at all."
Surprises
Standing on stage at the Regents' Scholarship Gala, Scott felt what anyone his age might feel when dropped into a room full of giants. He was excited. Elated. Nervous. Very, very nervous. And understandably so. Seated in the crowd, decked in ties and in tuxes, were some of Georgia's most powerful influencers. Politicians. University presidents. Potentially, future voters.
When the time came, Scott delivered his speech.
It was a speech about his father, about the hardships and troubles his family had to overcome to land a son at Augusta University in the wake of the greatest economic crisis since the Great Depression. It was a speech about how needs-based scholarships helped make him the man he is today. It was only the second time he'd ever delivered it, and to say his delivery was flawless would be an understatement.
"I got two standing ovations," he said. "They lasted so long people were joking that I got more applause than the governor."
Write, practice, perfect and deliver. No doubts. No surprises.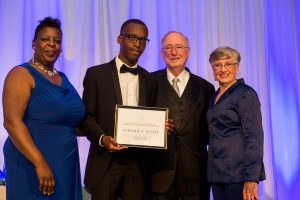 Caught up in the emotional aftermath of his speech, though, Scott said he was caught off guard when Hank Huckaby, former chancellor of the University System of Georgia, came onto stage to present him with — what else? — a needs-based scholarship. The Henry "Hank" M. and Amy Huckaby Needs-Based Scholarship," to be more precise.
Presented to one or more students of the University System of Georgia, the Huckaby scholarship was funded to help promising Georgian students in need — students like Scott — get a college degree.
Scott was the award's first recipient.
"It's very faded, my memory of the event," he said. "When they presented me with the award, I hugged the presenter, I took my picture. I was in shock."
Today, Scott said he's starting to appreciate more the gravity of what happened that night back in March. The shock is wearing off. The adrenaline, too, has died down. But the memory, faded though it may be, still lingers in the back of his mind. It's definitely got him thinking.
An internship with the Augusta mayor's office. Possibly a master's degree in public administration. Maybe even law school. All things on the table, and all opportunities made possible by needs-based scholarships.
What happened in March is something he'll never forget. It's also something he'll never take for granted.
"When people tell me, 'You're so ambitious,' or ask, 'Why are you always working so hard,' that sits in the front of my mind," he said. "Scholarships have given me the opportunity to change my life and the lives of my family — why wouldn't I make the best use of them?"
As for the future, he said he's got a plan, but he's also leaving his options open. There is room for that now. Room for a few surprises. As long as they're all as positive as his last one, that is.
On the rare occasion he has a quiet moment, he said he still thinks back to that evening in March, standing before the governor, before the regents and the university system's presidents. It makes him think of his parents, and of the sacrifices they've made. It makes him think about his scholarships, his education, and about the difference he's made not just in his own life, but in the lives of those around him. More importantly, though, it makes him think about what comes next.
"I just think, being in a room like that so young," he said. "Imagine if I can continue on this path; imagine me 10 years from now."
It's tough to do, admittedly.
After all, it only takes LeDarius Scott 16 days to make a difference.