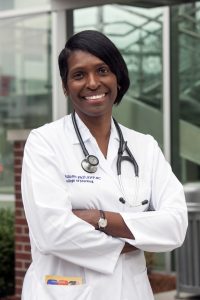 Lovoria B. Williams, an associate professor in Augusta University's College of Nursing, is one of 88 nurse practitioner leaders to be inducted into the Fellows of the American Association of Nurse Practitioners (FAANP). She will be formally recognized during the American Association of Nurse Practitioners' national conference on June 23 in San Antonio.
"As an NIH-funded investigator and family nurse practitioner, Dr. Williams leads community-based participatory research at Augusta University, delivers smoking cessation services for the university's cancer center and provides complex primary care for veterans and the homeless," said  Lucy Marion, dean of the College of Nursing at Augusta University. "We at the College of Nursing are proud of this honor for Dr. Williams."
Established in 2000, the FAANP program recognizes nurse practitioner leaders who have made outstanding contributions to health care through clinical practice, research, education or policy. Fellows of AANP are visionaries, and as such, hold an annual think tank to strategize about the future of nurse practitioners and health care.
Williams' work has had a positive impact on the health profession, making her a great asset to FAANP, said Mary Jo Goolsby, assistant dean for community partnerships in the university's College of Nursing and chair-elect of the FAANP program.
"As the incoming chair of the FAANP program, I am honored to welcome Dr. Williams into the Fellowship and celebrate her significant contributions to nurse practitioner education, research and practice," Goolsby said.
Williams earned her master's degree from Georgia Southern University and received her bachelor's and doctoral degrees from the Medical College of Georgia at Augusta University.