Some might say it was a gift 50 years in the making – but as Kathy Anderson, a Medical College of Georgia Nursing Class of 1971 alumna put it, "It was time to put my money where my heart is."
Anderson, along with classmates Janet Benton, Claudia Blackstone and Lynn Latimer, decided to honor the legacy of their class and celebrate their 50th reunion year by setting up a $25,000 endowed scholarship to support students within the Bachelor of Science in Nursing (BSN) program at Augusta University.
After a meeting with Sarah Akins, associate director of philanthropy for Augusta University, and hearing that another class had funded an endowment, Anderson knew that this was the year to act.
"I thought, 'This is the year for us,'" said Anderson. "We need to do it. I feel like we owe it to our school because they gave us an education when they were a fledgling BSN program."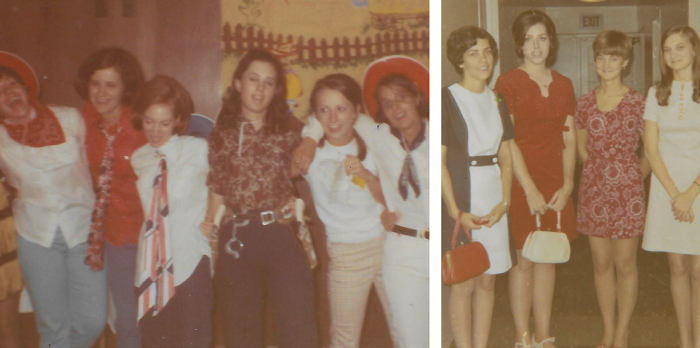 All four ladies share a passion for nursing and say they would "absolutely" recommend it as a career. According to them, despite any hardships nurses might go through, it doesn't diminish the personal rewards that come with the job. While Benton says her first love was science (and why she initially started out as a biochemistry major at the University of Georgia before transferring to the BSN program at MCG), Anderson, Blackstone and Latimer all say they never wanted to do anything else. Nursing was a calling, not just a field they chose because it might pay well.
Blackstone said that she couldn't wait to become a nurse and detailed how happy she was to work first as a candy-striper and then as a nursing assistant before obtaining her BSN. She was also thrilled to be given the opportunity to work in the first home health program in Jesup, Georgia, during her sophomore year, and spoke fondly of the nurses she got to work with who inspired her in her own career.
Times have changed within the past 50 years. "When we became nurses," said Benton, "[women] could be a nurse, a secretary or a teacher. Nowadays, there are so many fields open to women that it's not a foregone conclusion anymore that you're going to be a nurse. And there are so many things that a nurse can do now," Benton added. "A nurse doesn't even have to take care of patients. There are so many different avenues."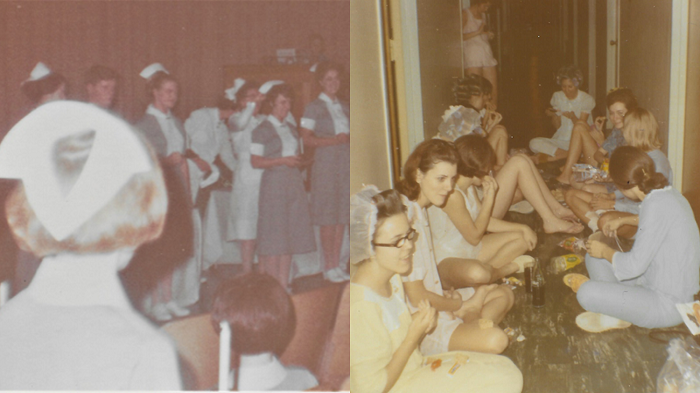 There have been several nomenclature changes that affected the College of Nursing, too. When the Class of 1971 graduated, their diplomas were from the Medical College of Georgia School of Nursing, because the nursing school was established under the flagship of the Medical College of Georgia. Besides being the state's public medical school, MCG, which originated in 1828, had produced a school of nursing and schools for dental medicine and allied health sciences. Decades later, in 2011, MCG became part of the Georgia Health Sciences University, and the School of Nursing was renamed the College of Nursing under GHSU.
The changes did not stop there. In 2013, the University System of Georgia consolidated Georgia Health Sciences University with Augusta State University, morphing into Augusta University. In the process, the nursing programs at both institutions were combined, and today's diplomas reflect the current name: Augusta University College of Nursing.
Not only have the names changed and the career opportunities grown for BSN graduates since 1971, but so has the class size. In 1971, the graduating class had just 35 students in it – but the Class of 2021 graduated 188 students. That's a growth of 537% over 50 years.
It's likely easier to keep track of three dozen classmates than nearly 200. Perhaps this small class size is what helped these graduates keep in touch over the years, even with some as far away as California, Arizona and Massachusetts. But most of the Class of 1971 live in the Southeast.
Anderson has been reaching out to her classmates to tell them about the MCG Nursing Class of 1971 Scholarship Endowment and hopes the upcoming Class of 1971 reunion will inspire many more class alumni to contribute to helping BSN majors for many years to come.
"We celebrate anyone who chooses nursing," said Anderson, describing the enthusiasm all four ladies share for nursing as a career.
"I have a passion about the endowment, too… and I would like to see our class get that passion… anything I can do to help somebody who needs that kind of [financial] assistance, I want to be able to do that."