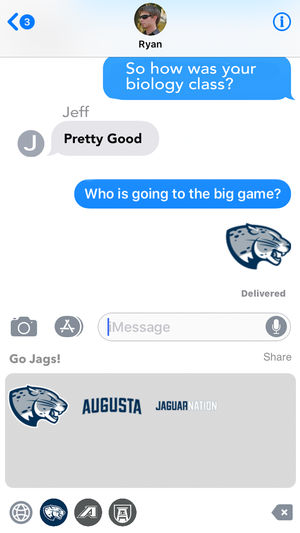 Improve your texting game with JAGmoji, the first-ever emoji keyboard developed by Augusta University.
Use the new emoji pack to put your best paw forward and show your AU pride in messages, texts, emails and tweets. It's free to download and available for both Apple and Android phones.
JAGmojis include all-new Augusta University icons, including emojified versions of mascot Augustus and logos to support Jaguar Nation Athletics. You can also send emojis modeled after iconic locations across Augusta University campuses, including the Summerville bell tower, J. Harold Harrison M.D. Education Commons building, or the downtown Augusta skyline featuring Augusta University on Broad.
The emoji keyboard was built by Augusta University's Jaguware team, part of the Academic & Research Technology unit of Information Technology Services, and illustrated by graphic designers in the Division of Communications & Marketing.
Look for new emojis to be added throughout the year as Augusta University uploads new limited edition emoji packs for special events like graduation and Alumni Weekend.
Download JAGmoji now in Google Play and iTunes app stores. Go Jags!