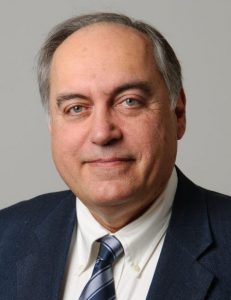 Alexander Schwarzmann, a nationally recognized expert in computer technology whose work primarily focuses on cybersecurity of electronic voting, distributed computing, survivable distributed information systems, and fault-tolerant systems, has been named dean of Augusta University's School of Computer and Cyber Sciences following a national search. His appointment is effective Aug. 1, and he will succeed the new school's founding dean Joanne Sexton who will continue serving as the director of the Augusta University Cyber Institute.
Schwarzmann's responsibilities as dean include leading the creation of new educational offerings at the graduate, undergraduate, and certificate degree levels; developing a robust agenda of research and scholarship among the faculty and students; and promoting impactful engagement with the community and external partners.
"Dr. Schwarzmann is a highly respected computer scientist with significant experience in both academe and industry. With his leadership, I know the school will continue to gain prominence in computer science, information technology, and cyber education and research," said Gretchen Caughman, executive vice president for academic affairs and provost.
Schwarzmann currently serves as the head of the Computer Science and Engineering department at the University of Connecticut, with a portfolio of external research grants totaling $23 million, and with the undergraduate enrollment doubling in the last four years. He played a key role in the development of the university's Connecticut Cybersecurity Center, and he is the founder and director of the of the university's Voting Technology Research Center, in which he provides technological expertise to the State of Connecticut in cybersecurity and integrity of electronic election systems, and he leads state-wide technological audits of voting systems. His own research programs have been supported by numerous grants totaling over $8.5 million from the National Science Foundation, including NSF Career Award, Air Force Office of Sponsored Research, State of Connecticut, NSF-NATO, and U.S. Election Assistance Commission, and other agencies.
He is an author of over 150 research articles and three books, and has edited a number of scholarly volumes on computer science research. He chaired a number of leading international conferences, and was a member of over 50 technical program committees. He served on several editorial boards, including IEEE Transactions on Computers and Information & Computation, two of the most venerable and prestigious journals in computer science.
Schwarzmann earned his bachelor's degree from Stevens Institute of Technology, a master's degree from Cornell University, and his Ph.D. from Brown University. He conducted post-doctoral research at the Massachusetts Institute of Technology.
The School of Computer and Cyber Sciences will be housed in the 168,000-square-foot Hull McKnight Georgia Cyber Innovation and Training Center, which is scheduled to open July 10.