Augusta University students now have a number of tools available to plan their career paths.
The University System of Georgia recently launched a system-wide Career Resource Planning Platform powered by Steppingblocks. Augusta University has been utilizing the Digital Career Counselor module of Steppingblocks for the past three years.
Steppingblocks allows students to create their own profile and choose from 24 job categories that may interest them after graduation. They range from art and design, education, health care management and technology, to name a few.
Students can also see various professional roles now currently filled by Augusta University alumni and the average salaries in those fields.
Julie Goley, director of Augusta University's Career Services, said about 1,500 students are active on the platform and the number continues to rise.
"Steppingblocks is a very data-driven tool, but it's user-friendly for students to understand and access a lot of data in a way that's packaged effectively for them," said Goley. "Not only can they look and see what a system analyst is, but they can also look at the type of occupational trajectory to get to that position based on real examples of people."
Goley explained that students can use the education model of the platform to see the cost of education as well as identifiable skills for different occupations they may need to bolster their resume.
The platform builds on the university system's Georgie Degrees Pay website, launched last fall to provide students and families with a one-stop website to compare the overall cost of attending college, majors and fields of study, average student borrowing and the average career earnings of USG graduates.
"The Career Resource Planning Platform is the most comprehensive career tool USG has ever offered, and it will be the foundation for future career and workforce development initiatives being created within the university system and across Georgia," USG Chancellor Sonny Perdue said. "As we prioritize affordability, efficiency and degree attainment, our ongoing work to serve workforce development needs furthers our goals and sets the stage for our graduates' prosperity and success."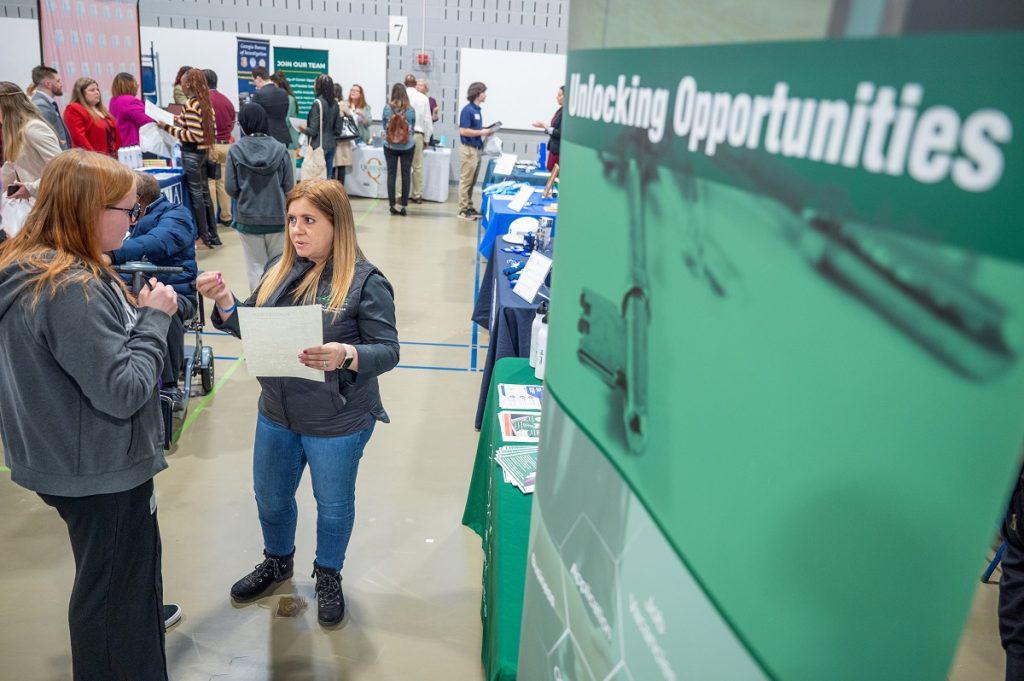 Goley also likes how students aren't just building a profile, but are continuing to use the platform.
"The fact that students go back and keep using the tool tells me that's a little bit different and more distinctive than some of the other resources we have available," Goley said.
Steppingblocks also features a job board where students can look at jobs nationwide and even the best programs to study to reach their desired job.
"It's a challenge to know where your students are and where your grads have gone, but you can see data on there. It's interesting to see the metrics of what data they've gathered about where our students are and our lead employers. So I think there'll be an interest from leadership and also from our faculty," added Goley.
Currently, some faculty members us Steppingblocks in their classrooms, but there is certainly room to grow and get more students on board.
AU faculty, staff and students can access the Steppingblocks Digital Career Couselor and contact Goley in Career Services for more information. The USG has also provided a resource hub for Steppingblocks with training and webinars.