The work of Augusta University's William S. Morris Eminent Scholar in Art, Cheryl Goldsleger, will be on display across the country this spring and will even make an appearance as a set piece for an upcoming HBO television show.
On Jan. 28, a traveling group exhibition titled Heated Exchange opened at the J. Wayne Stark Galleries at Texas A&M University. Heated Exchange features work by artists who use encaustic, or hot wax.
"All of us approach the medium in a different way, which is why we were all invited to be a part of it," Goldsleger said.
Heated Exchange will be on display through March 16. The exhibition will eventually travel to California. Goldsleger's work has been a part of the exhibit since it first opened.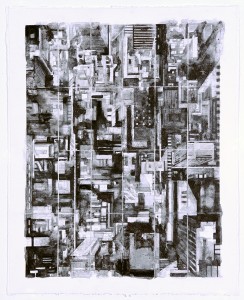 The exhibition Goldsleger is most excited for is Close Reading: American Abstract Art from the Vanderbilt University Fine Arts Gallery at Vanderbilt University in Nashville, Tennessee. The Fine Arts Gallery acquired one of Goldsleger's artworks and is using it for all promotional materials for the exhibit.
"I'm very excited," Goldsleger said. "They're using the piece on all digital announcements, as well as print advertisements and on a banner. I want to go to Nashville just to see the banner. That was really good news that I knew nothing about."
Close Reading will be on display until May 26.
At the same time, Goldsleger's work will also be featured in another exhibit in Nashville titled Artists Select, at the Cumberland Gallery. Cumberland Gallery is highly respected in both the country and the region, according to Goldsleger.
Several artists whose work is currently represented by Cumberland Gallery were invited to contribute work for Artists Select. These artists, including Goldsleger, were also asked to invite an artist, not represented by Cumberland, to participate in the exhibit. Goldsleger invited painter Joanne Mattera.
One of Goldsleger's works will also be on display in an upcoming HBO series titled Big Little Lies. The show will star Nicole Kidman, Reese Witherspoon and Shailene Woodley.
Goldsleger's work will be a set piece for scenes that take place in a lawyer's office.
Interestingly, this is not the first time Goldsleger has seen her work on the big screen.
Several years ago an Atlanta-based collector purchased work by Goldsleger. The collector's house is filled with art and was selected to be the set for a music video by Nicki Minaj and Meek Mill.
"That was the first time anybody had approached me and asked if I could sign a release so my work could be in a video," she said. "You could see my work in various shots at different times in the music video."
Sometime in the fall of 2016, Goldsleger expects viewers may see her work on HBO.
For more information on Goldsleger and her work, visit her website at http://www.cherylgoldsleger.com/