A health care advocate whose personal experiences helped shape the Patient- and Family-Centered Care movement at the Medical College of Georgia in the 1990s is returning to Augusta to lead the enterprise-wide patient experience initiative. Julie Ginn Moretz has been appointed assistant vice president of Patient- and Family-Centered Care/Chief Experience Officer for AU Health, effective May 1.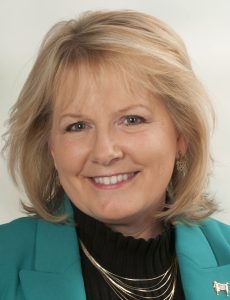 "We are thrilled to have Julie back on our health care leadership team. As one of our first true patient advisors, she was instrumental in ensuring that the Children's Hospital of Georgia was built with the input of the parents and children who would use it," said Lee Ann Liska, EVP of clinical affairs at Augusta University and CEO of AU Medical Center. "Now she will oversee all our patient advisory councils and have operational responsibility for key initiatives that support Patient- and Family-Centered Care and promote service excellence and the patient experience."
As AVP/Chief Experience Officer, Moretz will work directly with Liska to develop enterprise-wide programs that improve the patient experience and increase patient engagement. An AU Medical Center strategic priority, Patient- and Family-Centered Care promotes continuity of care and leads to safer health outcomes, wiser allocation of resources, and greater patient and family satisfaction.
Moretz was a founding member of the Children's Heart Program in Augusta, now a non-profit organization that supports the families of children with serious heart conditions. Her son Daniel was born with severe heart problems which culminated in a heart transplant at age 8. He died at age 14, but not before his unique experiences and advice helped transform the way pediatric care is delivered at the Children's Hospital of Georgia today.
"I am honored to have this opportunity to bring my career full circle. I look forward to continuing the story we started two decades ago as pioneers in Patient- and Family-Centered Care," Moretz said. "I have many fond memories of our previous work, but it's a new day. With competing priorities and changes in health care, I am delighted that AU Medical Center is placing such a high emphasis on partnering with patients and families to improve outcomes in all aspects of care."
Moretz, whose family was featured, along with MCG, in the 2006 PBS documentary Remaking American Medicine, currently serves as associate vice chancellor of Patient- and Family-Centered Care, Center for Patients and Families, at the University of Arkansas for Medical Sciences. Prior to that, she spent nearly seven years as director of special projects at the Institute for Patient- and Family-Centered Care in Bethesda, Maryland.
She received a Bachelor of Science degree in communications from Georgia Southern University and serves as an adjunct faculty member at the colleges of Health Professions and Academic Affairs at UAMS.
Moretz has been published numerous times over her professional career on improving patient care and the patient experience, and has been invited to share her passion for this work nationally and internationally. In October, she delivered the keynote address at the 10th annual PFCC Conference at AU Health.
She was recognized by the American Heart Association with a Lifetime Achievement Award in 2007 and by the Healthcare Industry Access Initiative in Washington, D.C. with the Make A Difference Award in 2015.