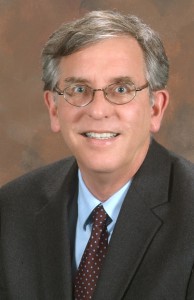 Dr. Walter J. Moore, Senior Associate Dean for Graduate Medical Education and VA Affairs at the Medical College of Georgia at Georgia Regents University, is the new Governor of the Georgia Chapter of the American College of Physicians, the national organization of internists.
Governors are elected by ACP members for four-year terms and, working with a local council, supervise ACP chapter activities, appoint members to local committees, and preside at regional meetings. They also represent members by serving on the Board of Governors of ACP, the nation's largest medical specialty organization. Moore assumed his duties at Internal Medicine 2015, the ACP's recent annual scientific meeting in Boston.
Moore was elected an ACP Master in 2014. Mastership recognizes an internist who demonstrates strength of character and compassion and serves as a mentor and advocate. Moore is a member of the organized Medical Staff's Executive Committee and Chair of the PEER Review Committee at Georgia Regents Medical Center. He has led MCG's graduate medical education program for more than a decade.
He is Chief of the Section of Rheumatology at the Charlie Norwood VA Medical Center in Augusta and served as MCG's Section Chief for 13 years. Moore is a member of the MCG Admissions Committee and the Georgia Regents Medical Associates Board of Trustees and serves on the GRMA Executive Committee. He had a 27-year career in the U.S. Army before coming to MCG.