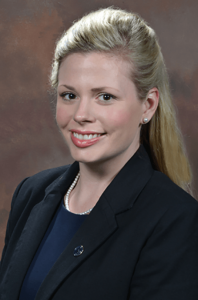 Tara Montroy has been named director of budget services within the finance division. The position is effective May 1.
Montroy, who received a Bachelor of Arts and a Master of Public Administration from Auburn University, came to Augusta University as a special assistant to the executive vice president of Finance and Administration in January 2014. In 2016, she was named director of Budget Planning and Strategy.
Previously, she worked for the Georgia Governor's Office of Planning and Budget.
In her new role, Montroy will focus on the strategic budget planning needs for the university. The position provides consultation and assistance including analytical and financial planning support to all units of the university. She will work closely with the senior leadership, vice presidents, hospital Finance, deans and directors in analyzing budgets and planning for future needs. She will also serve as a liaison to Government Relations as it relates to special initiatives that might involve the state's Office of Planning and Budgets or other state agencies