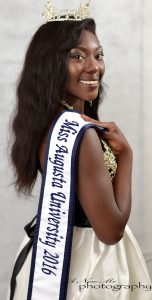 In October, Augusta University hosted a beauty pageant and Dejah Johnson was crowned the first Miss Augusta University.
The kinesiology student, track athlete and member of the Lumin Society, a student ambassador program, thought the pageant would be a great opportunity to meet other students and represent Augusta University.
"I met people on campus I probably never would have met," Johnson said. "It was cool to be with people from all different backgrounds and majors supporting each other from the beginning to the end of the pageant."
In a beauty pageant, each contestant adopts a platform or a cause the contestant cares about and commits time to raising awareness about the issue or problem.
Johnson's platform is youth empowerment through education. With her Miss Augusta University crown on, Johnson participates in tutoring programs in Richmond County schools and feeds the homeless with a local outreach program.
Although Johnson never pictured herself participating in pageants, she enjoyed participating in Miss Augusta University and the responsibilities that come with wearing her crown.
"This experience has taught me a lot about myself and has been more rewarding than I ever thought it would be," she said. "I've been able to use my crown as a way to become more active in both the Augusta University community and the Augusta community."
Johnson plans to continue her journey as Miss Augusta University. College and university pageants serve as stepping stones, or qualifying pageants, for state pageants.  In June, Johnson will represent Augusta University in the Miss Georgia pageant.
"I'm hoping this journey will help me learn more about myself while also giving me the opportunity to promote the university," she said. "I'm looking forward to meeting new people. I never pictured myself doing a pageant, but this is a once-in-a-lifetime opportunity."
Supporters have the opportunity to vote for Johnson for the People's Choice Award. The contestant with the most votes for People's Choice will automatically make it to the finale. Fans may cast their vote on the Miss Georgia website. There is a fee for voting.
The Miss Georgia pageant will take place this summer, from June 13-17. On behalf of Jaguar nation, good luck, Dejah!