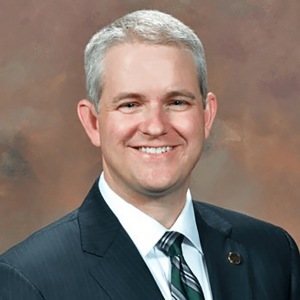 AUGUSTA, Ga. – Ian Mercier, president and chief executive officer of the Medical College of Georgia Foundation, Inc., has been named vice president for university foundations at Augusta University, effective June 1.
"This is an exciting time for Augusta University," said Russell Keen, executive vice president of external relations and chief of staff to university President Brooks A. Keel, PhD. "As we continue our work to realize President Keel's vision for the future and as we launch our comprehensive fundraising campaign, Ian's experienced leadership will help ensure our efforts are organized and coordinated with our foundation leaders so that we can be successful."
Mercier will serve as the chief executive for each of the three foundations, responsible for the coordination and management of assets and investments supporting the philanthropic missions of Augusta University, to include its colleges, centers and institutes, and affiliated hospitals and clinics.
He will work to mobilize the foundations' collective resources in support of university fundraising programs and serve as an advocate to assist the external relations team in furthering a culture of philanthropy.
Mercier joined the MCG Foundation in 2005, serving in successive appointments as information officer and chief operating officer before being named to his current position in 2016. Prior to that, he served as database manager in the university Office of Advancement.
"I am honored to be considered for a role that allows me to better serve the community of foundation trustees and donors who have given so much of their time and resources to this institution," Mercier said. "My roots run deep at the university, having spent most of my career at the Medical College of Georgia and Foundation – but also having wandered the halls of the Maxwell Performing Arts Theater as a young student playing violin in the music program."
He is a member of the Association of Governing Boards, the Council for Advancement and Support of Education, the Association of Fundraising Professionals, and the American Association of American Medical Colleges and Schools Group on Institutional Advancement.
Mercier is a graduate of the 2015 Class of Leadership Augusta and a member of the Augusta Rotary Club.
He earned a bachelor's degree from the University of Phoenix and master's degrees in business administration and public administration from Villanova University.