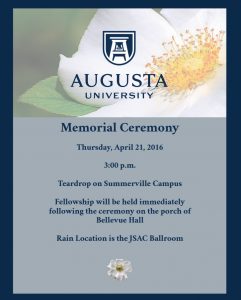 On Thursday, April 21, Augusta University will be honoring the faculty, staff and students who have died over the last year.
The memorial ceremony will begin with an opening welcome from President Brooks Keel at 3 p.m. at the teardrop on the Summerville Campus.
"It's a celebration of their lives and a chance to acknowledge that they were part of our Augusta University family," said Dr. Scott Wallace, dean of student life. "And as part of our family, we're going to do the right thing and honor their lives."
After each of the 10 names is called, a family member, friend or someone from the department where the person worked will come forward and place a flower bloom in a bowl of water. Following that, the bell in the historic bell tower will toll 10 times.
It's the first time the bell has been rung in quite a while, and it signals the revival of the campus tradition of ringing the bell on important occasions, a custom that will be reemphasized at Augusta University.
Though a new ceremony for Augusta, similar traditions have been established at universities across the country.
A fellowship will be held immediately following the ceremony on the porch of Bellevue Hall. The rain location for the event is the JSAC Ballroom.
The following will be remembered:
Students:
Michael D. Wilson
Emily Piper Smith
Melissa A. Hooper
Charles R. Davis
John F. Hildebrand
Faculty:
David Joseph Mascaro
Tapan Kumar Chatterjee
Ying Wang
Staff:
Melanie Dimmick Kumrow
Vanessa Reese Smith